Horse float-turned-testing lab could curb cattle illness and improve health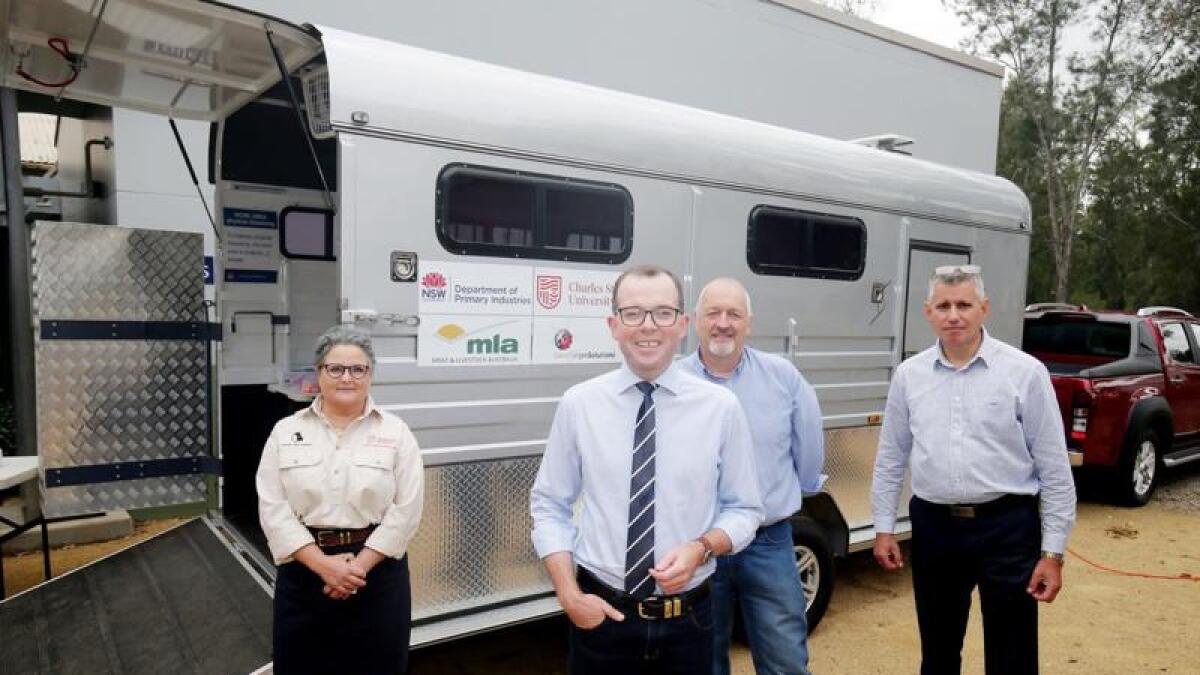 An innovative mobile testing laboratory designed to provide a quick turnaround in bovine respiratory disease (BRD) diagnosis could help to prevent the most common cause of illness and death in Australian feedlot cattle.
NSW Agriculture Minister Adam Marshall said an ordinary horse float had undergone an ingenious overhaul to improve prevention, diagnosis and treatment options at feedlots.
"This is a wonderful innovation which enables us to take our testing facilities on the road and into feedlots," Mr Marshall said.
"Bovine respiratory disease is the most common cause of death in feedlot cattle, but this rapid diagnosis from inside the mobile testing lab can actually detect illness before stock even show symptoms.
"The disease most commonly occurs in the first four weeks when cattle enter the feedlot, so early intervention will improve productivity, profitability and animal welfare outcomes — making for a healthier herd.
"The innovation of this mobile testing lab is quicker, faster and importantly keeps money in farmers' pockets."
The project is part of Meat & Livestock Australia research by Charles Sturt University and NSW Department of Primary Industries, to develop new methods for the early diagnosis of BRD.
The mobile laboratory development was supported by the molecular technology company Gene Target Solutions.
Charles Sturt Associate Professor Jane Quinn said COVID-19 exclusions meant the research team had to take a new approach to testing samples from a NSW feedlot.
"In order to undertake the rapid testing for the project, samples were collected and transported just down the road to a horse trailer that had been converted to a mobile molecular biology laboratory," Prof Quinn said.
"The deployable laboratory proved very successful as a means to undertake rapid testing with over 200 samples tested in one day, a unique event for the feedlot."
Mr Marshall said the goal was to now further develop deployable molecular testing capabilities that can be set up directly in larger feedlots or properties, or in a mobile laboratory moved between smaller operations.
"It has the potential to be applied in other rural livestock and plant industries where diagnostic results are needed within hours or where sample transport can be detrimental to the test outcome," he said.
"We believe this approach will introduce quantitative feedback on animal health and welfare to improve consumer supply chain confidence."