Time is ripe for a change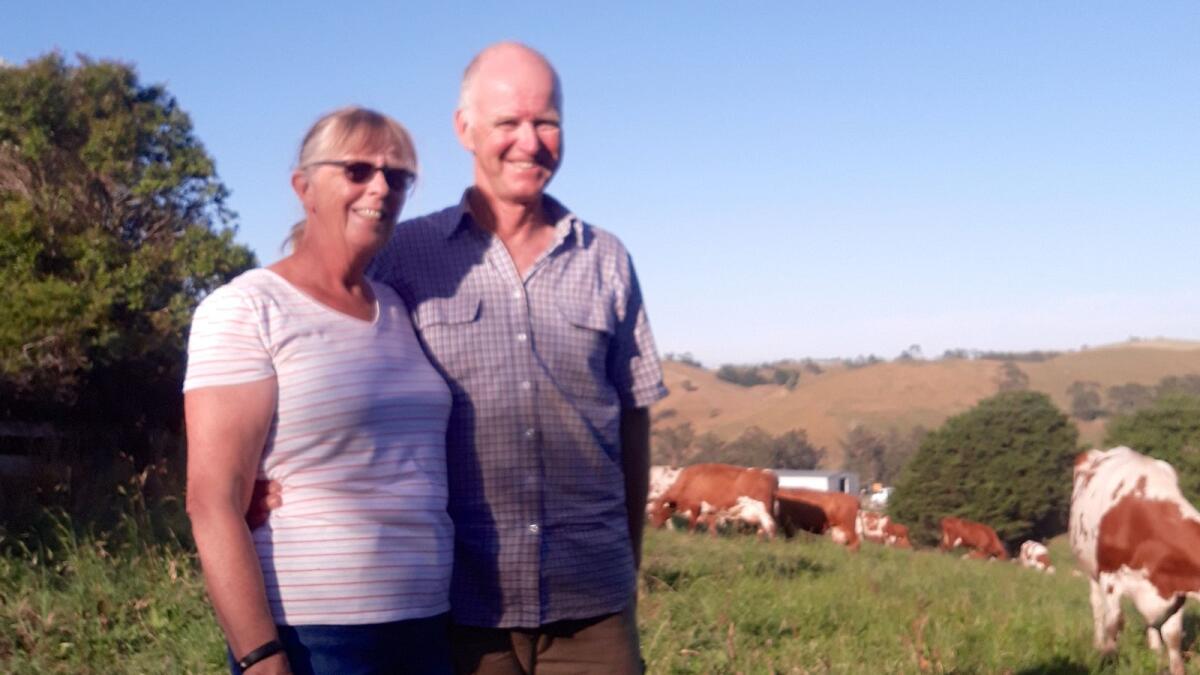 An elite Aussie Red dairy herd will be dispersed in the next couple of months, with the sale of the Leppin dairy farm at Bena, in Gippsland.
The sale of the farm and herd comes after many conversations between Toby and Lyn Leppin and their son Nick, who are in a 50:50 sharefarming agreement.
All involved agreed it was a tough decision to exit the dairy industry.
But for them all, decisions needed to be made about lifestyle going forward, challenges in recruiting employees and changing animal welfare regulations in the dairy industry.
"After 44 years in the dairy industry, I decided I wanted to retire, and this June was the deadline," Toby said.
"In conversations about what to do next, the three of us recognised it was time for a life change for all of us.
"There were also outside pressures that started us talking about exiting the industry."
A key factor in the decision making was workforce.
Toby and Lyn have worked part-time in recent years, stepping up to full-time during harvest and calving. They knew that wasn't sustainable when their plans were to retire.
The permanent full-time worker, who was very reliable and had worked on the farm for a long time, moved interstate. The remaining workforce was a part-time worker and Nick.
Nick was faced with the reality of finding and recruiting reliable labour units, who were passionate about the industry.
He and Sarah have two young children, and Nick knew he wanted to spend time with them.
"Dad worked a lot when we were growing up, and I didn't want to miss out on spending time with my kids," Nick said.
The dairy industry is a seven-days-a-week job, and Toby admits this makes it hard to balance lifestyle and family.
"I was head down working trying to improve the farm and make a living," Toby said.
Beyond lifestyle, there were financial decisions to be made. Nick is in a 50:50 sharefarming arrangement with his parents. A key business asset for him is the herd.
While Nick is keeping the machinery he owns, the herd is a saleable item. Genetic selection over decades has built a sound herd, with good production figures.
"We've always been heavily focused on kg/hectare rather than per cow. The herd produced 546kg milk solids/cow last year, or the equivalent of 1400kg MS/ha," Toby said.
"In exceptional years, the herd has produced up to 1600kg MS/ha. Some years we haven't fed much grain to achieve those results."
For Toby and Lyn, the farm is a significant financial asset, as well as a portion of the herd. They admit to wrestling with the decision and visiting a number of scenarios, as did Nick, to enable Nick and Sarah to buy the farm.
In the end, it was just too expensive for them. Toby spent many years setting up the farm and he and Nick have continued to improve it.
"If it had have been possible for Nick and Sarah to purchase the farm, we would have gone out of our way to make it work," Toby said.
"But that's a lot of debt and a lot of stress, and you don't want to regret it in a few years' time.
"You're under an enormous amount of pressure to be successful in dairy farming, and you've got to be committed to it. In the end, the best decision for everyone was to sell."
The Leppins are pleased the new owner will continue to run the property as a dairy farm when he takes over at the end of June.
Facing the challenges
Toby said passion for milking cows was paramount for working in the dairy industry, followed by animal welfare and improving the land's productivity.
"There are a lot of outside pressures in the dairy industry, that farmers don't have control over," he said.
"These decisions and changes are created by people outside the dairy industry, but they impact on what we do every day."
Some of the animal welfare changes in Victoria have impacted the bobby calf market, and control over joining periods and inductions have been taken away from farmers. Additionally, fertiliser use is to be subject to more regulations.
"We're being told now that we're going to be audited for nitrogen use, how it's applied, when it's applied and how much is applied," Toby said.
"For what purpose? Farmers can't afford not to look after their cows and farms, yet we're continually being told by others how we should be running our businesses."
Recruiting and managing employees is a challenge across the dairy industry.
"The best people in the dairy industry need to be passionate about cows," Toby said.
"A lot of people are desperate for reliable employees. Farmers are supposed to have the skills to interview, recruit and manage people, develop contracts — and these sorts of tasks are not necessarily what we do best.
"These are all the issues we deal with day to day. Sometimes it gets too tough and dairy farmers make the decision to leave the industry."
Faced with the challenge of recruiting and training employees, organising their work and dealing with work-related issues, Nick realised he'd sooner work independently than spend every day managing staff. As the Leppin dairy farm was not a one-person business, this was not an option.
"I had an interesting conversation with my accountant," Nick said.
"He said, 'you have 400 cows, 1000 acres, two labour units, plus Toby and Lyn part-time and a part-time relief milker. For the farm you're running, it's no wonder you're feeling burnt out'."
Toby and Nick have always been responsible for maintenance, cropping, animal husbandry and AI.
"If I'm the only labour unit left, I can't physically do everything myself," Nick said.
"And the thought of finding reliable staff, training and managing them, added to my stress."
Nick has been involved in the dairy farm for 15 years.
"When I first went into dairy farming, I really enjoyed the management, the running of the business, doing the maintenance. My passion is more about running the business side of it," he said.
"I'm not excited as I used to be about working in the dairy.
"If I knew I could get someone else who was as reliable as my former permanent full-time worker, I might rethink being in the dairy industry. But I also know it's not my preference to manage workers."
Admitting he has done well out of being in the dairy industry, Nick and Sarah have purchased a farm nearby at Inverloch, where they will live.
Coincidentally, the new farm is next door to Toby and Lyn's turnout block, and Nick will lease this land to be able to start beef farming full-time.
Nick is looking forward to continue being his own boss — without the issues that come with employing workers — and managing his time without the constraints of dairy farming. He is currently purchasing a beef herd.
"We've done the budget and we know we'll make a heap less money in beef than dairy, but I had a light bulb moment and realised it's not about making money for us, it's about the kids and our lifestyle," Nick said.
"For someone who wants to have a crack, there's really good money to be made in the dairy industry. But there are a lot of challenges."
While the milking herd normally numbers 400, Nick has set about selling the dairy herd by privately selling empty and milking cows.
"The herd test data and production figures are sound, from many years of information collation," he said.
The rising two-year-old heifers will also be sold, joined to Angus lowline bulls. Toby and Nick will keep the yearlings, selling them next year as rising two-year-old in-calf heifers.
"We love living here, and it's a bit sad to sell this farm, but we realised we can't have the luxury of living here if we are no longer prepared to put the work in every day," Toby said.
The Leppin family is well known for their considerable contribution to the dairy industry over the years, by being involved in discussion groups, Focus Farms, various farmer panels and research studies, and building up the genetic base and production capacity of Aussie Red cows.
Toby has also been involved as an agricultural trainer in various schools in Melbourne that offered agriculture studies to their students. He has mentored many farmers over a long period of time.
It's now time for Toby and Lyn to move on and take life a bit easier, spending more time with their five grandchildren and enjoying lots more sailing.