Simple fix solves problem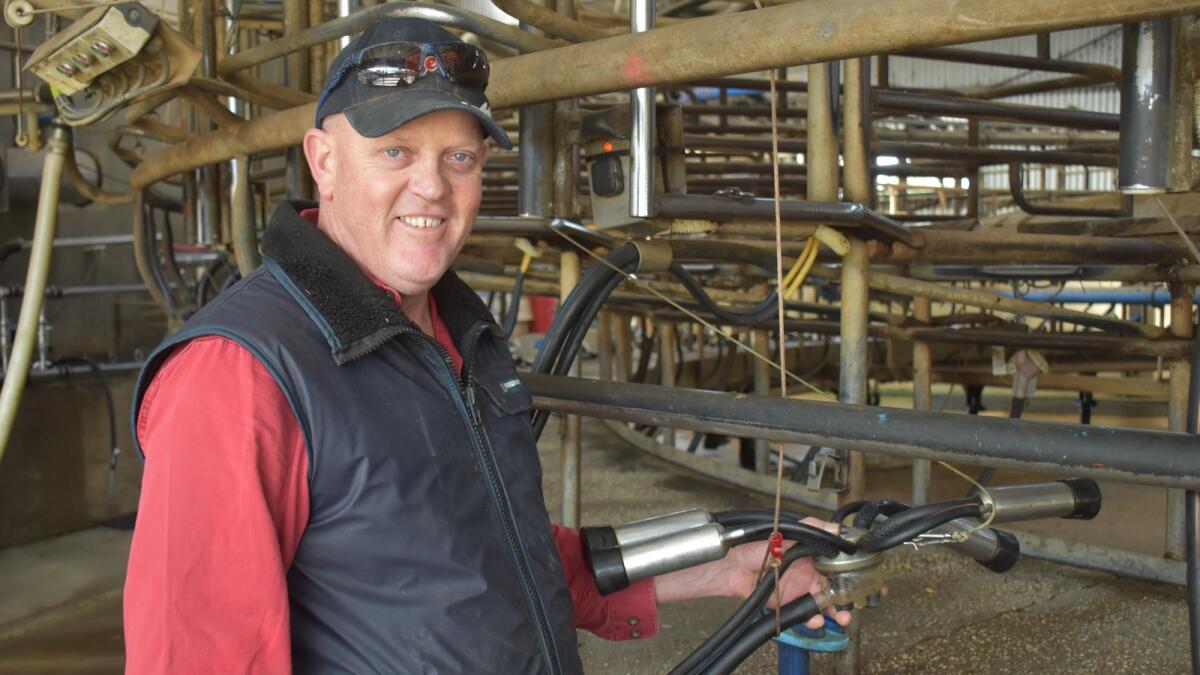 Jamie Vogels is always looking for ways to make things easier at the Scotts Creek dairy farm he shares with his brother Andrew.
His invention of a milk hose steadier — or Cups Up Jigger, as he calls it — won the local farm award in the DemoDAIRY Foundation's inaugural Dairy Innovation Challenge and is living up to expectations in helping cows in the dairy.
DemoDAIRY Foundation judges said the innovation was something that many farmers could use to prevent cup slippage while milking cows.
"The beauty of this innovation is in its simplicity to address an everyday issue for farmers," the judges said.
For Jamie, it was just a simple way to solve a problem and his three home-made jiggers continue to come in handy during milking.
"Some cows might suck a bit of air and you need to support the cups; previously we would use whatever was handy depending on height needed but when the cow moves, they'd throw it off," he said.
"I was thinking, 'how can I hold the cups up instead of messing around with different things?'."
The simple rope, magnet and hook contraption that connects to the retention bar has solved the problem.
"I needed something that's not solid or attached because if things go wrong, it will just come off rather than pull everything to bits," Jamie said.
"I've made three and that's enough because not every cow will need it — we only put it on if the cow is slipping a bit to help her and then take it off and because of the magnet it stays handy where you put it for next time."
Like most farmers, Jamie is adaptable and innovative.
"We use a lot of things off-script — not for their intended purpose — and I also made a reclamation unit on the exhaust from the vacuum pumps to heat water for the first wash.
"Everything we do is to make things easier and user-friendly"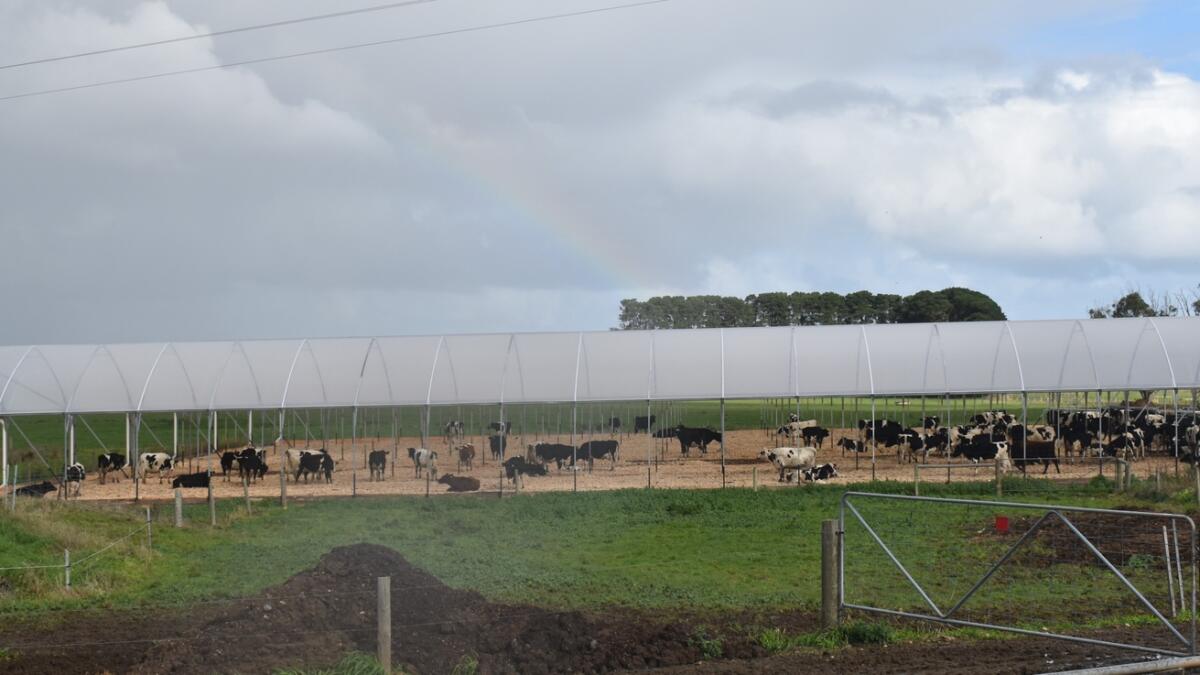 The Vogels brothers were among the first in the region to install a dairy shelter and now they couldn't live without it, having recently completed a 25 per cent expansion.
"Feed can be a phenomenal cost and that's why we built the shelter and why we've extended it from roughly 3000 square metres to 4000," Jamie said.
Originally, they built five bays to fit half the herd over the bleak winter months.
"If you feed them in the paddock in winter here at Scotts Creek, you're probably wasting 50 per cent," Jamie said.
"With the shelter we probably waste one per cent. It paid for itself in three years and has worked out to be the best thing for calving and so we stole a bay for that."
The extension will allow the front two bays to be used for calving and the rest for the milkers.
The feed savings have been huge, and Jamie and Andrew no longer buy in any feed except for grain pellets, and production is strong on the back of better feed utilisation.
It has also helped herd health.
"We don't have issues with cell counts, we get silver or gold awards every year, and mastitis has remained minimal. The cows are living the dream," Jamie said.
Jamie has been back on the family property for 25 years after working as an electrician. They have 404ha on the home farm and 202ha on the other side of the Cobden-Port Campbell Rd.
"When I came home, we were leasing land at Lismore. Over the years we bought closer to home and consolidated," Jamie said.
"You never buy land and look back and say I shouldn't have done that. You do it hard at the time but as land prices go up, we get more equity and can be in a better bargaining position with the bank."
The herd is mainly Holstein and while it's a closed herd, with just Jersey bulls brought in for ease of birthing for heifers, they're not purebred.
"About 10 years ago when it was hard to get cows in calf and the cows were getting taller, we started using Viking Genetics to concentrate on herd health — firstly using Swedish Reds and then we moved to Swedish Holsteins because they had better health traits than the North American genetics," Jamie said.
"We had good production but we couldn't get them in calf; now we've gone from not having enough heifers to hold numbers to having too many and exporting quite a few to China, which is really good.
"We also have maintained production while increasing milk solids."
They will milk 700 this year and expect to rear 280 heifer calves, bringing about 200 through as replacements.
"Having too many is a good problem to have," Jamie added.
The farm has significant natural bush areas, which are home to loads of koalas, kangaroos and native birds.
The brothers are doing their bit to reduce their carbon footprint with 30kW of solar on the roof, a heat reclamation system on the vat, a few solar pumps and a VSD on the vac pump.
Jamie is serving his first term as a Corangamite Shire councillor, following in the footsteps of his father John who went on to become a Victorian MP for the Liberal Party.
"Entering politics is not on my agenda and it is best politics is kept out of local government," Jamie said, but he was keen to ensure farmers were represented at a local level.
"Representation in politics has changed dramatically over the past 20 years.
"Most are career politicians who have worked their way up the ranks. Farmers used to have a decent percentage in parliament; now it's about four per cent.
"This is my first time on council and I'm learning a lot and finding out where I can poke the bear.
"I wanted to make sure there was farmer representation to highlight the importance of food and fibre to our region. I'm there for agriculture.
"It's hard to forget food and fibre when there are farmers in the room. The shire relies on farmers and we need them to be represented."
Jamie is a big supporter of Food and Fibre Great South Coast, a major sponsor of the Dairy Innovation Challenge.
"They're doing wonderful stuff and would kick even more goals if they had more funding."
While prices and conditions are good and he sees a positive future for dairy in the region, Jamie has some reservations.
"Milk prices have come up but so have input prices," he said.
"I'm putting down urea at the moment at $1600 a tonne; at the start of COVID I was paying $480 thinking that was dear.
"We just have to take the hit being hopeful that it's only short term."
"Currently we're trying to catch up on infrastructure and technology but we'll keep welding the dairy to keep it together for now because we are keen to reduce some debt."
Read more about all the award winners on page 7.