Making her mark down under
Karin Chittenden Couch describes herself as a New York farm girl transplanted down under.
After 24 years of living in Australia, she proves you can take the farm girl out of the United States but you can't take the farm out of the girl.
Along with raising five children, Karin has continued her dedication to dairy farming, particularly her interest in Jersey cows and genetics.
Although now living off-farm, after her former Riverside Jerseys herd was dispersed in 2018, Karin continued her passion for breeding cattle and she has a small herd of cows based at a stud farm in the Warrnambool region.
She has more recently turned her passion into a career as a genetics consultant for Alta Genetics Australia where she is responsible for the Jersey portfolio, mating programs and dairy sales across all breeds in western Victoria and South Australia.
Karin was raised alongside three brothers on the family's Dutch Hollow Farm at Schodack Landing in upstate New York, where her family still operates an ever-growing dairy milking 1000 Jerseys.
Her grandfather on her father's side, Stanley Chittenden, was a long-time Jersey breeder and the pioneer of polled Jerseys across North America. One of his bulls, from the Fair Weather Farms stud, was the first polled bull to be marketed from the US into Australia.
"He pioneered polled Jerseys across the world from bulls he bred," Karin said.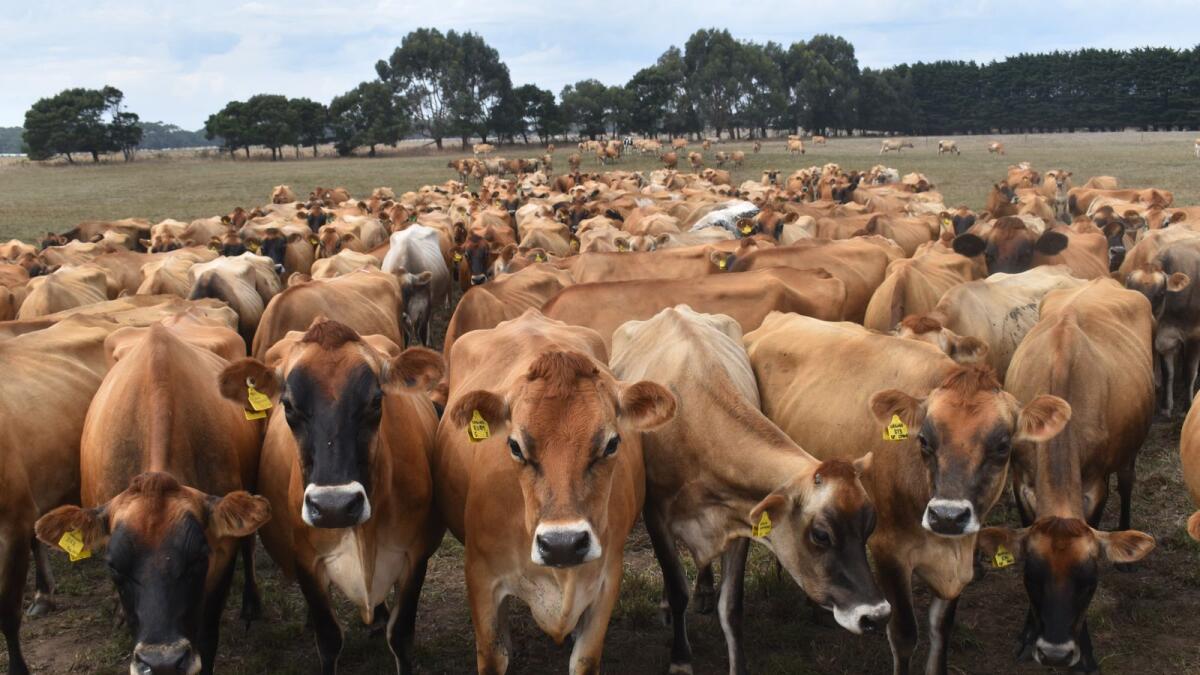 From age 13 to 20, Karin was responsible for de-horning on the family farm. Today she is pleased to see a trend to polled animals, as it is seeing her grandfather's goals realised.
"If you can breed an animal without horns and eliminate the de-horning process for the sake of the animal and create a better image for the industry, then we should," she said.
"But I was raised to not forfeit the most important traits or the bottom line to do so.
"My grandfather bred milk cows first and foremost. Polled was a bonus, a goal, a lifelong dream and he never took a step backwards to achieve that.
"I hope community expectations and milk factories realise how long-term the process of breeding polled is, and that they stay realistic about it."
Karin admits she brings three generations of bias on both sides of her family to the dairy industry and the Jersey cow.
"I love all cows of any colour, especially the good ones, but I do love the Jersey cow more than any other breed.
"Like anything, you grow up with some bias but they are efficient, economical and easy to handle.
"Combine their solids per kilo to their weight and feed intake, I don't think you can get a more efficient producer."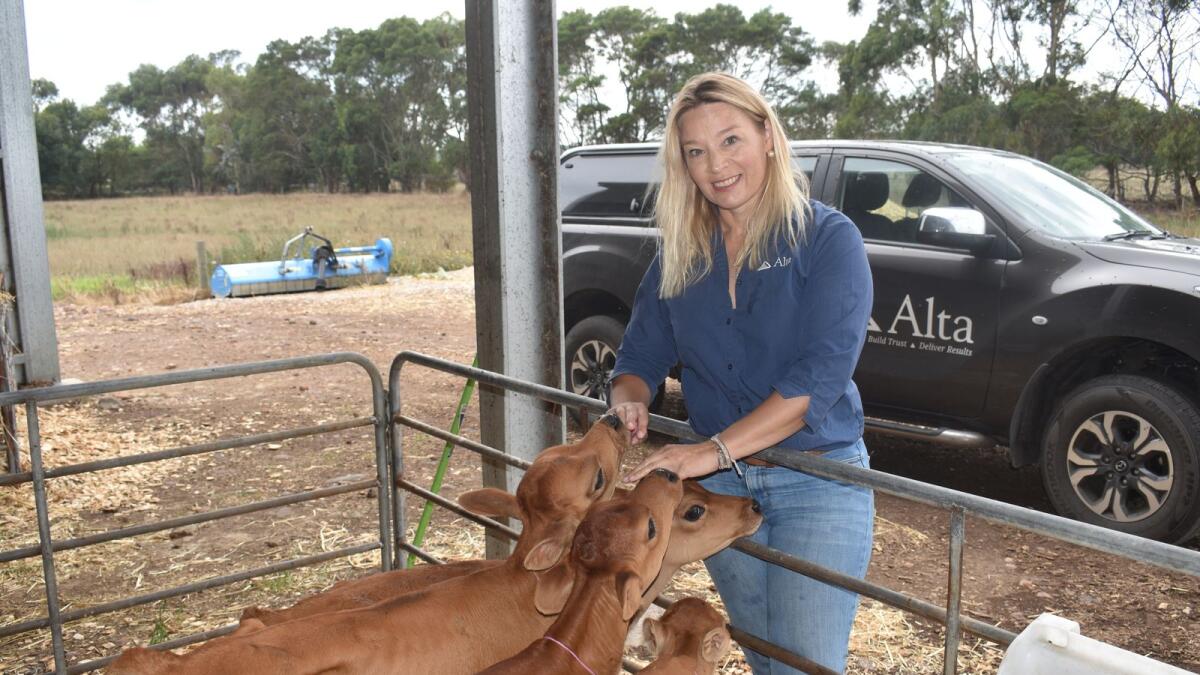 Karin's move to Australia was inspired by people.
"I met several wonderful, like-minded Australians on their trips to the United States.
"They would often stay with my family on the farm as they travelled state to state and became friends of my family for years to come."
Deciding to travel, Karin sold a heifer to pay for a plane ticket to Australia and "one thing led to another" and she's still here, along with five children.
Karin's life-long interest in genetics was a big part of Riverside Jerseys' success, breeding four Jersey grand champions, two intermediate and two junior champions as well as reserves in other years.
"We put upwards of 40 bulls into AI service, had a number one ASI cow for a few years standing and peaked at an 8000-litre lactation average while milking three times a day, all in the space of around 15 years."
Her favourite cow was Lollypop.
"She was the standout cow," Karin said.
"You always hope you can breed a cow that can win at (International) Dairy Week, classify well, top your milking herd and contribute back to the breed genetically through sons.
"To breed a cow that can do everything is like hitting the trifecta — she was our trifecta cow, she ticked every box."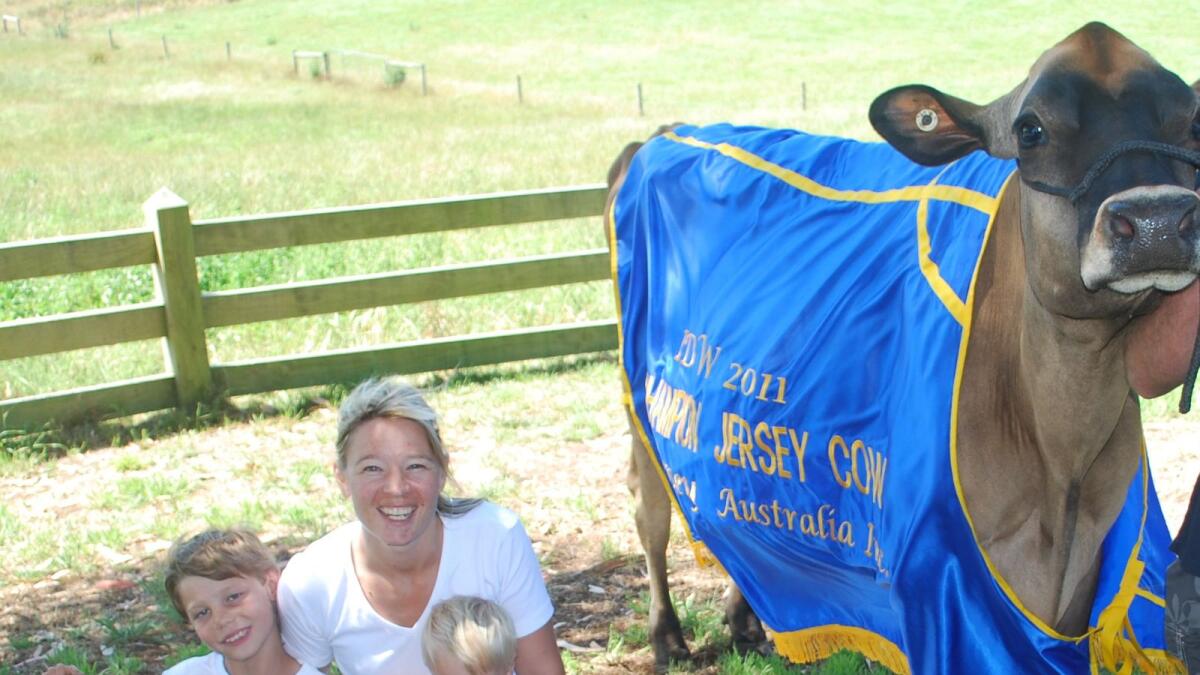 Karin is upbeat about the future of Australian Jersey cows.
"We've got our cows in the right place to be able to influence at every level, commercial, stud or show cow.
"Whatever someone is trying to breed, our Australian cow is a valuable asset."
After selling the farm and herd, Karin took a job as herd manager on one of the Midfield Group's large dairies.
"It was a great experience and a complete 180 to being in the stud sector for 20 years," she said.
While there, the herd moved from 700 to 1000 cows, transitioned to a full A2 herd and improved farm production and health with every step.
"It was a 100 per cent commercial focus, which I embraced wholeheartedly," Karin said.
"I thought I might have wanted a job outside the industry but once I got involved with Midfield and back to the core of dairying, I soon realised I didn't really want to be anywhere else."
Karin, who has a Bachelor in Dairy Science and Agribusiness from Cornell University, has always harboured great interest in dairy and genetics.
"It's about the bottom line, people's livelihoods. No-one ever wants less milk.
"A bull that ticks every box is not easy to come by, for any breed, but you're going to want cows that are fertile and get in calf in two services or less, which means one less straw to buy, income over feed costs and cows that produce that milk most efficiently, health traits, milk quality, healthier calves and bulls that give you balanced type or simply the exact traits you want or the cow you want to milk.
"The healthier your cow, the more money she makes for you."
Karin's US family farm is barn-based.
"Americans say it takes a stronger cow to live in a free stall barn; Australians say it takes a stronger cow to walk two kilometres to the dairy.
"It's all relative. I wouldn't choose — I think it takes a strong cow to do both.
"Every farm is different and herds are tailored to specific conditions.
"You can breed the herd that you want; we work too hard every day not to get up in the morning and like the cows we milk for whatever reasons we like about them."
Karin is now making her mark in the traditionally male-dominated world of genetics, working across all dairy breeds.
"A long-time friend told me he was retiring and thought I might be interested in applying for his position working for Alta Genetics this past July," she said.
"I jumped at the opportunity as it would not only give me a career in the industry working across stud and commercial sectors, but potentially gave me more flexibility for family time, and time to chase children across the state playing sport — which couldn't have happened at a better time."
One thing Karin had to learn after moving to Australia was cricket, and now her son Brody is a Victorian state and Melbourne Stars Big Bash League player.
"I played a lot of backyard baseball with my brothers, but I never knew cricket existed," she said.
"My ex-husband was an excellent cricketer and great clubman and it was part of our routine.
"All of our kids played ball sports as soon as they could, which is part and parcel of small rural community life.
"Brody seemed to excel at everything he did and the other four children aren't far off him.
"He wouldn't trade growing up on the farm for the world, and I'm the same. There's no better way to grow up.
"I have no doubt that all of my children growing up in an environment that dealt with harsh realities, adversity and hard work on a daily basis, while still staying passionate in that work, has made them who they are now and will be in their futures."