Dairy consumption still high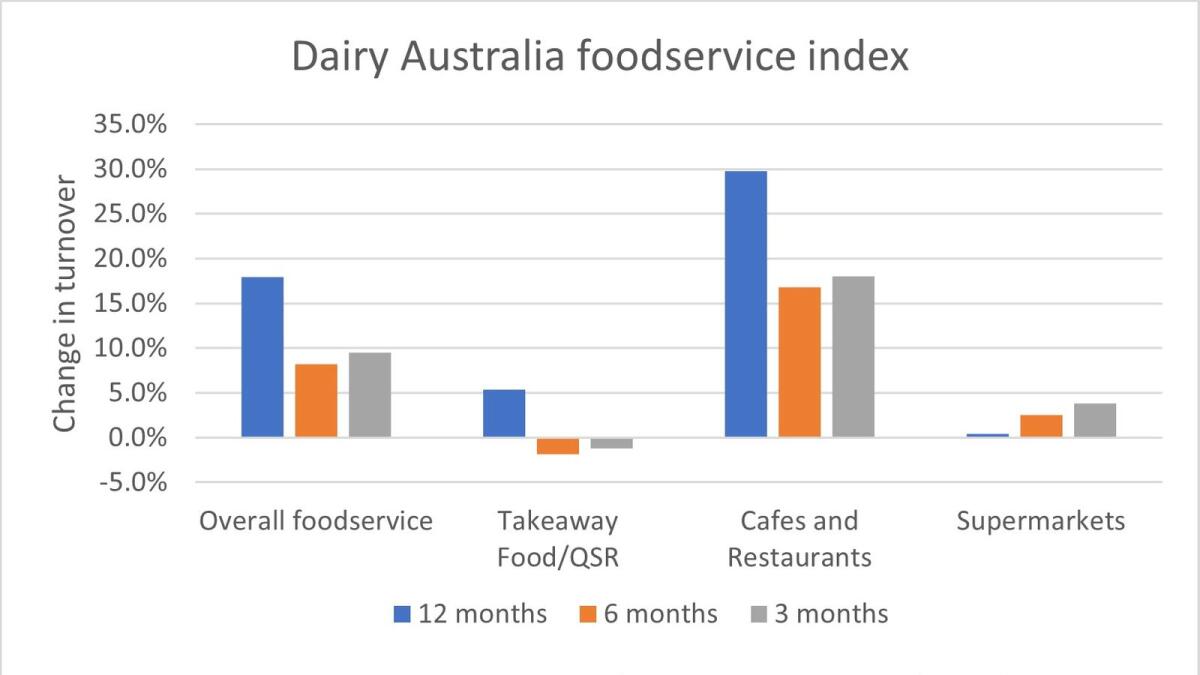 With the dust wiped from the tables of the food service industry and restrictions eased, people have been out in droves enjoying some long-awaited freedom.
However, as Dairy Australia's May Situation and Outlook report has discussed, COVID-19 cases are not the only thing running rampant since the opening of domestic and international borders.
Consumers' food expenditure has also notched up some serious growth.
Cafe and restaurant spending has surged over the three months to February compared to the same period in 2021, even tracking above pre-pandemic levels.
Yet, at the same time, supermarket spending remains strong — inflation has hit the supermarket shelves.
Inflationary pressures are being felt right across the supply chain, flowing through to the consumer and underpinning continued supermarket sales strength.
It is no secret since the start of 2022, grocery bills have become larger (and not necessarily longer), with many products increasing in price.
Unlike much of the 2010s, dairy is very much part of this.
For the 12 weeks to March 27, the average per unit prices of fresh milk and long life milk increased 5.4 per cent and 2.9 per cent respectively, compared to the same period the previous year (1). Additionally, the average per unit price of butter rose 2.7 per cent (2).
At the same time, the volumes of white milk and butter sold have decreased.
While a shift in shopper behaviour has driven this change, the data suggests it does not reflect consumer resistance to increased retail prices, but rather the reflection of a sustained change in behaviour from the pandemic.
Trips to the supermarket became less frequent, as volume purchased and spend per trip were significantly higher than before the pandemic.
This trend continues to evolve, as society balances the new flexibility between working from home and going back to the office, with trip frequency continuing to decline.
Dairy Australia has previously reported that 98 per cent of households purchase dairy milk and this holds true, despite decrease in volume sold.
Dairy's status as a staple product offers significant advantage, in that increased retail prices are less likely to curb consumer demand, but rather shift the way consumers purchase their dairy needs (that is, purchase more private label products compared to branded).
The prospect of consumers gravitating towards alternatives in the face of higher dairy prices also exists, but looks to be of minimal consequence.
Research has illustrated perceptions around health and sustainability are significant drivers to the switch to alternatives, as opposed to financial circumstances.
In any case, broader inflationary pressures are affecting alternatives, too. Average per unit values of plant-based beverages (PBB) increased 4.9 per cent in the 12 weeks to March 27, compared to the same period in 2021, with the most significant rise in the almond milk category (11 per cent) (3).
Prices have also been rising for butter's long-established substitute, margarine, up 7.9 per cent (4).
Cheese has far fewer substitutes, and as such, financial pressure is more likely to see consumers move towards lower cost formats such as blocks, rather than individual slices, and could reduce the volume purchased of more discretionary entertaining-style cheeses.
It appears that across the dairy case, the more discretionary-style products appear to be most at risk if consumer spending pulls back and inflation bites harder.
Looking forward, it is likely with continued input and production pressure, the rise of retail prices is far from over.
This will support overall supermarket spending despite shopper behaviour continuing to evolve.
While overall purchased volumes of dairy may decline, and the ways in which consumers purchase their needs shift, dairy will continue to be widely consumed in households across Australia.
Source: ABS and Dairy Australia
Footnotes:
1: NielsenIQ Homescan based on a continuous panel of 10,000 households; excludes non-private dwellings and businesses, non-permanently occupied households and out-of-home/impulse purchasing. Dairy Australia calculation based in part on data reported by NielsenIQ through its Homescan Service for the dairy category for the 12-week period ending March 27, 2022, for the total Australian market, according to the NielsenIQ standard product hierarchy. Copyright 2022, Nielsen Consumer LLC.
2, 3 & 4: As above.