Costs cloud event's success
The additional costs of COVID-19 compliance shouldn't be worn by event organisers. That's the message the board of Lardner Park wants the Victorian Government to listen to.
Lardner Park, near Warragul in Gippsland, hosts the Farm World field days and 120 other public and private events each year.
With tens of millions of dollars of machinery, equipment and other sales made at Farm World, the event stimulates the local economy and further afield.
Coronavirus cleaning and compliance activities to host the four-day Farm World field days, from March 24 to 27, cost $100,000 — along with many volunteer hours.
This cost came directly off the bottom line of earnings from site and entry fees, reducing the amount of money the not-for-profit event could contribute to the community.
"To put Farm World field days on under a COVID-safe plan — with cleaning, sanitiser, QR codes — cost us an extra $100,000," chief executive officer Craig Debnam said.
"It's quite overwhelming to do checks and making sure every exhibitor was following the government's mandated safety [protocols], like wearing masks," he said.
"There were 2500 exhibitor staff on site every day. We encouraged social distancing with signage and layout, and provided sanitiser across the site."
Mr Debnam said the Department of Health-designated inspectors who attended Farm World throughout the weekend were consistently happy with how COVID safety was implemented across the 40-hectare site.
In particular, Drouin and Warragul Rotary clubs provided many volunteers to assist with vaccination checks and QR compliance at the entry gates.
"Lardner Park is an event centre that's lost $7 million over the last two years because of events cancelled by lockdowns. It was a tough couple of years," Mr Debnam said.
"We understand the government mandates to comply with COVID safety, but there's no funding to support it and the cost is born by the event organiser.
"We're not-for-profit and every dollar we earn goes back into the community as donations to community groups, and invested into improving the Lardner Park site.
"This is one event and we have another 120 events planned for this year.
"This level of cost of COVID compliance is unacceptable.
"Nor do we have time to scan through government grants [to defray that cost]. It'd be great to get a phone call or email from a government department with the message 'here's funding we have available to underwrite costs for you to comply with government mandates about COVID safety'."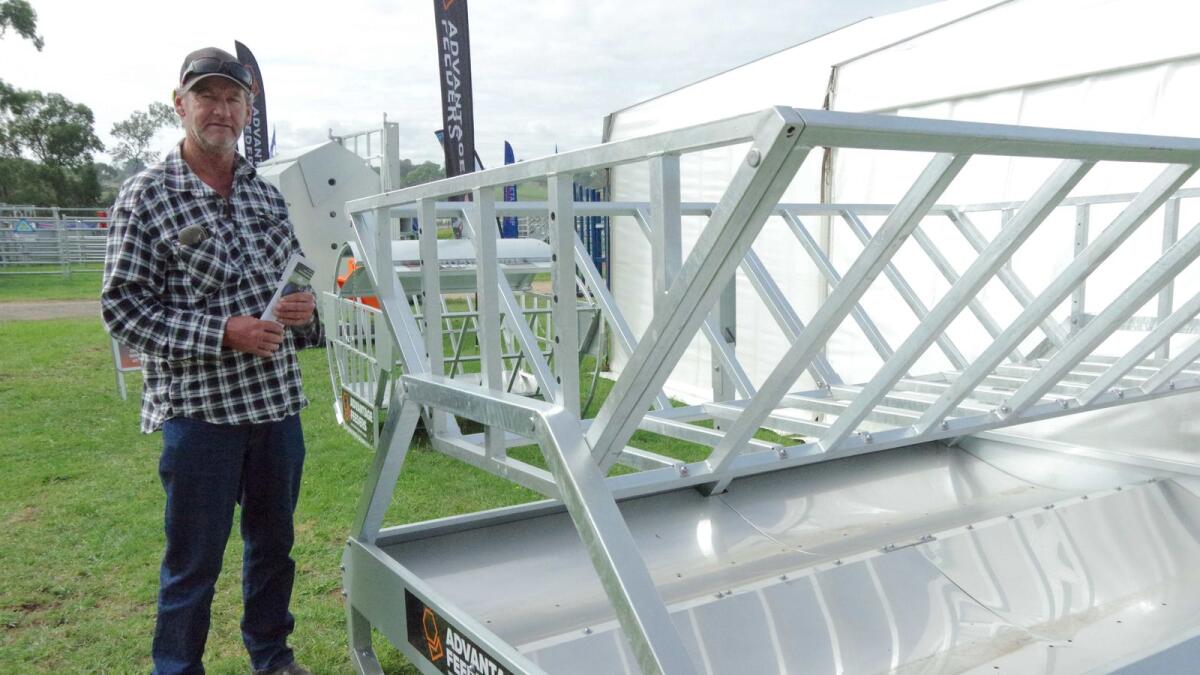 With four employees, a volunteer board and committee of 25 people, Lardner Park relies on considerable goodwill within the community to host Farm World field days, its biggest event each year.
Warragul Lions Club, Warragul Rotary Club, Drouin Rotary Club, Lardner Primary School, Drouin South Primary School, Warragul Industrials Football Club, Ellinbank Football Club, local CWA and CFA clubs all contribute volunteers to assist in running the event over four days.
"Farm World is very service-oriented," Mr Debnam said.
"Many service and not-for-profit community groups get supported to be at Farm World by a free site."
As well as the opportunity for health checks with the National Centre for Farmer Health, Baw Baw Shire Council provided a nursing mothers' space, and health support services provided hearing and skin checks and information about prostate and mental health, among other topics.
With a theme of 'Return to Heritage' this year, Farm World field days hosted a record-breaking 15,000 attendees on the Saturday (day three) and 39,654 people across the four days. There were 650 exhibitors.
This year, Saturday evening was given over to a rodeo, there were motocross events on three days, an equestrian expo each day and, courtesy of the Royal Melbourne Show, the Victorian leg of the Australian Young Farmer Challenge tested the mettle of many.
In 2021, with the cancellation of many agricultural shows, the Australian Young Farmer Challenge was an online event. This year it was back in front of audiences, with young people aged 18 to 35 years old competing in teams in a range of farm skills.
There were also opportunities for exhibitors, farmers and contractors to complete tractor driving tasks in a competition.
"About 50 machinery dealers were put through their paces over three days and it was a great opportunity for farmers and contractors to compete against them, driving tractors and critique their handling," Mr Debnam said.
On Friday's Ag Demo Day, the committee provided a paddock on the site that allowed farmers and contractors to test drive agricultural equipment and machinery provided by dealers.
"Farm World was started to allow agricultural dealers the opportunity to display and demonstrate tractors and machinery. A big part of our theme this year was agricultural demonstrations," Lardner Park chair Duncan McNeill said.
CommBank hosted a seminar on the first day, providing an economic outlook update that confirmed dairy as the biggest contributor to growth in Gippsland.
CommBank's senior economist Ryan Felsman said Gippsland's economic growth was being matched with infrastructure investment, with $2.4 billion currently under construction among $4.6 billion of planned infrastructure across the region.
"Farm World 2022 was a tremendous result and every exhibitor I spoke to said they made many sales over the four days and generated a lot of sales leads — there were tens of millions of dollars of sales made at Farm World," Mr Debnam said.
"Everything we activated was very popular, and generally I think it was a very good event. We'll continue to grow the exhibitor base for next year."