Caring for cows and people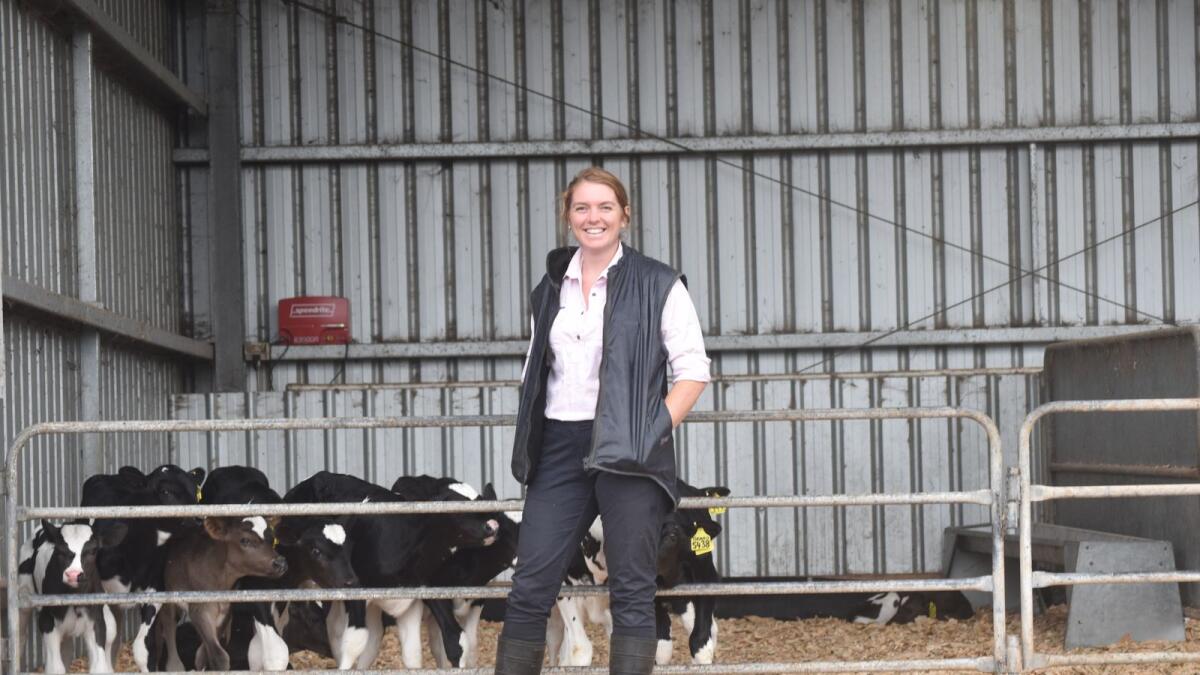 The words 'health and welfare' return as a common theme throughout Lucy Collins' involvement in the dairy industry.
Whether it's in her role as a vet, on her family farm, in her research or in her industry building capacity, Lucy's interest not only applies to the cows, it applies to the people and the industry itself.
Lucy grew up in South Gippsland on a small acreage subdivided from a dairy farm, where her parents still run an agricultural contracting business.
Lucy developed her interest in dairy from working on the main farm, helping with milking and rearing calves.
Her first exposure to veterinary science came through high school placements with vet clinics.
"I was interested in animals and conscious that I didn't have a family farm to go back to so was looking for alternate pathways to work with and alongside farmers," she said.
Lucy had initially planned to pursue agriculture but was discouraged at high school due to "long-standing misconceptions" about the industry, something that still rankles today.
Instead, she was encouraged into a more high-profile professional degree but ironically narrowly missed the score for veterinary science and instead completed a Bachelor of Science, majoring in Agriculture, at the University of Melbourne before moving on to the veterinary course, where she had a strong focus on dairy.
After graduating at the end of 2015, Lucy was offered a job in Kyabram in northern Victoria — which reinforced her choice of dairy.
While working in an irrigation region was vastly different to Gippsland, another move was in store after she met Matt Glennen, a dairy farmer from Dixie in south-west Victoria.
They married in January and Lucy was able to remain with the same veterinary company, Apiam Animal Health, and transition into their local Timboon ProDairy team.
"ProDairy is very animal health and welfare focused, with strong strategic herd heath planning and preventative care," she said.
It fits well with her outlook on farming.
While not involved in the day-to-day operation of the farm, a 700-cow operation at Dixie, Lucy's animal health skills are called upon whenever possible and she contributes to planning.
Dixie Park is moving away from bobby calves.
"If we're not bobby calf free this year, we'll be bloody close to it," Lucy said.
"It's a good news story for the industry that a number of farmers are on the front foot and making changes now."
To make the change they have used a raft of strategies, including sexed semen, heifer exports using genomic testing to help make decisions, and dairy beef — with Matt's parents John and Helen taking the lead in managing the dairy beef herd.
The home farm is 300 hectares with a 180ha outblock, and the family has been using strategic crossbreeding with Holsteins to manage pasture damage by reducing cow size.
Any non-beef bull calves born last year were kept until five days, fed colostrum and then on-sold to other calf rearers once drinking well.
"Matt and his parents are very progressive and we can have discussions around the dinner table about things we've seen on other farms," Lucy said.
More recently, the farm has introduced Allflex collars in the rotary dairy to monitor herd health.
"We try to use the strengths of everybody in the business — for me that's animal health and welfare," Lucy said.
She is determined to make a difference in dairy beyond the farm gate.
Lucy is completing her master's degree through research at the University of Melbourne, has been appointed an associate director of WestVic Dairy, is undertaking a Nuffield Scholarship, was one of the organisers of the Cream of the Crop event for women in dairy and writes a monthly vet column for Dairy News Australia (See page xxx).
Her master's is based on a survey distributed on social media looking at opportunities for welfare enhancement beyond minimum standards for dairy in Australia.
"Part of that is around public perceptions," Lucy said.
"It's important that we continue to work to understand and meet community values and maintain our social licence to operate."
She is now analysing the data from 1500 responses.
Her Nuffield Scholarship, supported by the Gardiner Dairy Foundation, is focusing on animal welfare auditing and benchmarking programs.
"At Kyabram, I noticed some milk processors were requesting third party animal welfare audits, on top of their dairy audit," Lucy said.
"An external person would come in and assess different parameters around animal welfare, such as pain relief and body condition, and build an overall picture of what is happening on the farm.
"The problem farmers were having was that the auditing system is based on an overseas system and not always entirely applicable to Australian pasture-based dairy systems.
"Some things that should have been measured weren't on there and some things that were measured weren't relevant, such as pressure sores.
"Farmers were frustrated they weren't performing as well as they thought they should, but it was because the audits didn't reflect Australian conditions."
There is an existing program in Australia called Welfare Quality, developed by the Australian Cattle Vets Association, but it's not widely used and Lucy believes there is always room for improvement.
"This is an opportunity for farmers to control the narrative. Most other countries already have their own auditing programs."
Lucy left for the United Kingdom on March 2 to investigate different animal welfare programs, only her second major overseas trip after a dairy placement in California during vet school.
"The public will continue to look for increased transparency around animal welfare and farmers need to be on the front foot; our consumers and markets will demand that," she said.
"I'm excited to see how these programs play out overseas, particularly from a farmer perspective.
"I want to make sure the story consumers are hearing is in line with their values and the dairy industry is being as progressive as it can be."
Lucy was recently appointed associate director at WestVic Dairy, following Matt who had a three-year stint on the board.
"I recognised there is a demographic gap I could help fill and tell a different story of someone who has come to this region from a non-dairy background, and works both on-farm and as a service provider."
She was also one of the organisers of the recent successful Cream of the Crop conference for women in dairy, alongside Renata Cumming and Chloe Brown.
"Every woman in that room had an amazing story and it was humbling to be part of it," Lucy said.
The two-day conference was born out of frustration that COVID-19 had restricted access to similar events and highlighted the roles women play in the industry.
"We were three tickets away from selling out; there's definitely an appetite to do it again next year," Lucy said.
"It was incredibly challenging but rewarding. Hopefully it will be back bigger and better and our blue-sky thinking is that it will eventually move to other dairy areas and we can support other women to host the event and showcase their own regions."
Lucy also writes a monthly animal health column for Dairy News Australia.
"I enjoy that," she said.
"I often take requests from farmers and try to cover topics relevant to the time of year.
"Everything I do is complementary; themes flow into each other and I am definitely pursuing my passions."