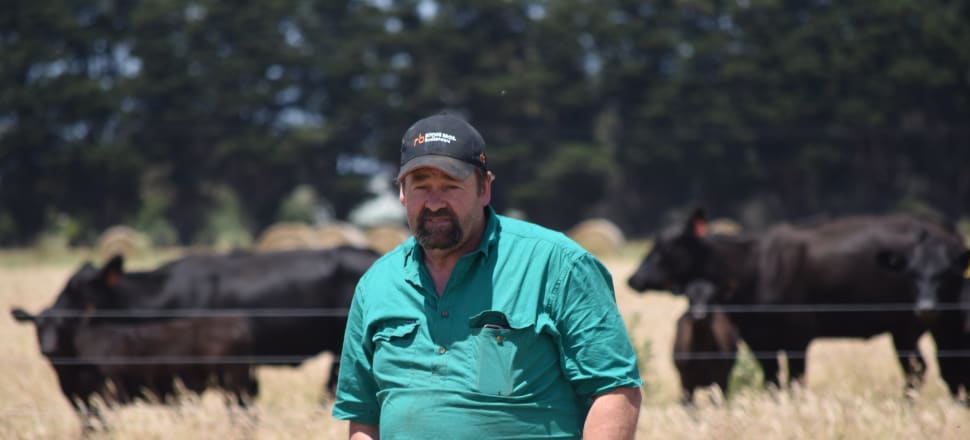 5370537724001
AFTER 38 years of milking cows, Glenormiston's Nick Blain has said goodbye to his dairy herd.
Nick isn't shedding any tears about leaving the dairy industry to go into beef, in fact he has no regrets about the life-changing decision.
Nick reckons that during the past year, 2000 to 2500 dairy cows have been lost within a 15km radius as farmers convert to beef.
Thirty years ago, his road had eight small dairy farms; now it's back to two, including one that has bought neighbouring farms to expand.
The days of the small family farm are numbered, he says.
His 180 dairy cows were trucked out in late November and two new beef herds have taken their place, joining about 150 beef cattle already on the northern part of the 263ha farm.
"When I left school at 16, we built a dairy and started milking, and that's what I've done for the past 38 years. It was time to pull the plug," he said.
At the most, Nick milked 210 cows five or six years ago, but in recent years it had been about 180 and as low as 160.
"A couple of years ago my son Marcus came back to the farm," Nick said.
"I asked if he wanted to milk cows or do something else, realising we could still run beef cattle … he's gone to get a truck licence.
"He could see that for the hours of work you put in; you're not being properly paid."
Despite milk prices nudging $7 this year and a season of good crops, Nick said input prices continued to grow faster than income.
"It looks like grain prices are going to be through the roof again this year and hay is not going to be much cheaper if you have to buy it," he said.
"By the time we put fuel, grain and power together and the rates go up every year, but we don't get paid a CPI rise.
"A few years ago, we thought we'd be doing all right if we could get $6, but now I don't think $7 would be enough now with the way the prices have gone up. We were making enough to live on, but we've struggled for the past five years."
The Blain family has owned the farm for about 60 years and Nick is a sixth-generation farmer.
The land has been used for dairy, beef and sheep in the past.
The change is also for lifestyle and health reasons, especially as Nick and his wife Donna plan to travel.
"In recent years I've usually stopped for six or eight weeks when they dry off, but before that I milked year-round," he said.
"When you've got a dairy farm, you can't do anything.
"I'm 54 and if we don't start travelling now, I probably won't be able to sit in a plane for 24 hours.
"The other thing about dairying is walking on concrete wears on your legs and even putting cups on affects your shoulders and I've had back problems over the years."
While many local farms have converted to beef, there is also demand from graziers.
"We rely on rainfall and because we haven't been too bad, graziers have come here to buy land.
"They're thinking if they can run twice as many cattle on our higher-rainfall land, why buy land up north."
Nick says the exodus will have long-term ramifications for Australia, potentially leading to a shortage of supply, especially for export.
"There's no use building new dairy factories for export because our milk will end up in the local market very shortly," he said.
"They've got to increase the prices for the people who are left.
They say if you can't make money out of milk at $7 you never well, but people have a lot of debts built up over recent years and the prices of everything else keeps going up.
"Young farmers couldn't afford to start up."
He also says supermarket milk should cost at least $1.50 a litre.
"I've talked to Melbourne people and they say they're willing to pay 50 cents a litre extra for it."
Nick doesn't see the new Dairy Plan as the panacea for the industry.
"I don't know if it's going to help that much," he said.
"We're going to have to lose another 20 per cent of suppliers to get the price to really improve."
Seasonal conditions have also been tougher, with this year a positive exception.
"Our rye-grass doesn't survive as well as years ago," he said.
"We'd plant things and they'd be there for five years, now we're only getting one or two years.
"I'm hoping going back to beef we won't push the pastures as hard and the survival rate will be better."
Nick and Donna discussed their options earlier in the year and decided to get rid of the Jersey and Jersey-cross herd.
The cows were on the market for about two months before being sold, with about 20 culled.
"They were unimproved cows, but a nice, neat herd all done by bulls, not AI," Nick said.
He has bought 41 Ultrablack beef cows — Angus with a touch of Brahman — from Warwick, Queensland, and has another lot of 40 on the way.
"They were really good buys," he said.
"They've just got no feed for them and have to get rid of them.
"They're as happy as Larry down here."
The new beef herd went into relatively dry paddocks, so they can adjust from the drier conditions.
The farm has not needed significant change to cope with a new herd, with fencing and troughs already well established.
The 38-year-old 13 swingover herringbone dairy now sits idle.
It needed a lot of work, a new vacuum pump and pipes likely to cost $80 000 to $100 000.
"I couldn't see the point in fixing it up, but still working for nothing, like slave labour," Nick said.
Last year an 8000-litre vat was added and will now be sold.
Nick says he has no regrets about leaving dairy.
"I couldn't care a stuff," he said.
"I've been in it that long, I'm happy to be out of it.
"I'm more interested in beef.
"I milked because I thought there was money in it, but there's not.
"Every year they said it would get better, but it never did."