Invention is one for the ages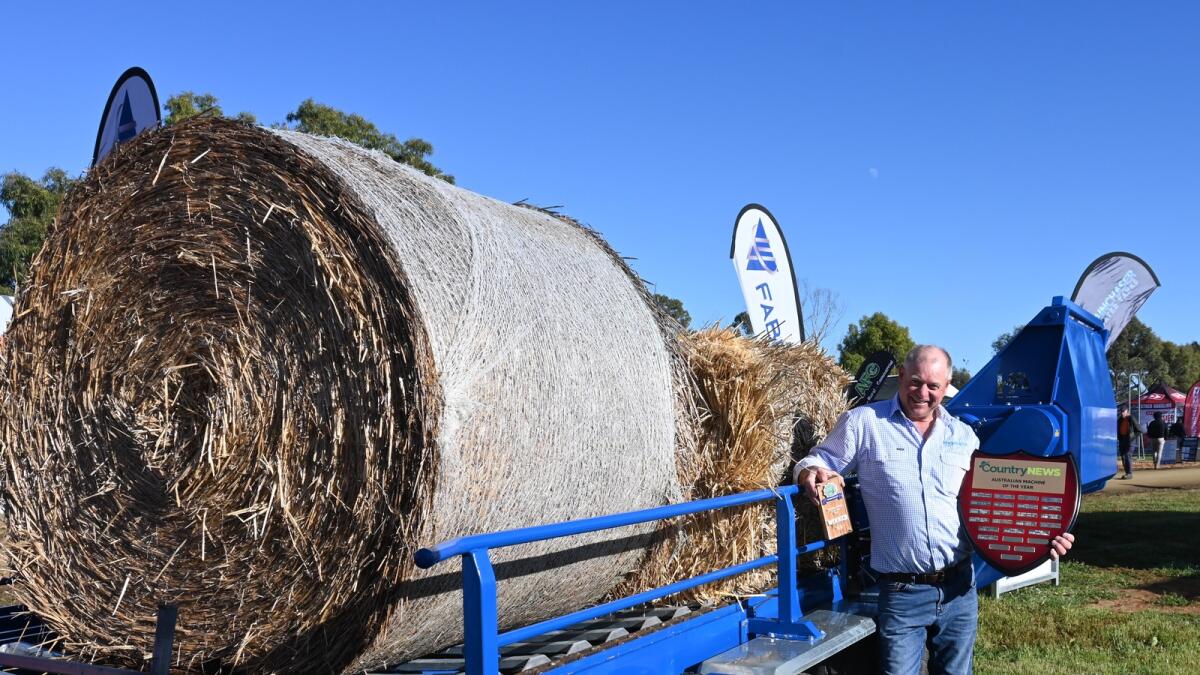 A newly designed mechanised trailer for feeding out hay and silage will give retired farmers the opportunity to still help with feeding livestock in the paddock.
Haymate is the brainchild of South Australian entrepreneur Andrew Martin and won the Country News Australian Machine of the Year at October's Elmore Field Days.
The trailer has been designed to carry four large bales — either square or round — and then deliver the fodder via a side mechanism of rotating teeth while being towed through a paddock by a four-wheel drive vehicle.
Mr Martin said one customer was able to halve the time he spent feeding out silage.
"With silage, it's usually a lot of work with a fork and stopping and starting the tractor or ute," he said.
"Haymate runs as a single-person operation and the only work for feeding out silage is to remove the string. The machine does the rest.
"We are trying to really push the biggest thing, which is the benefits of making our lives easier and saving time which in turn saves money."
Although Mr Martin and his team of 12 staff needed to finely tune several prototypes, they already had four Haymates pre-sold to enthusiastic customers.
"The secret is to listen to people's feedback.
"You have to be constructive with what feedback you get."
The machine can be operated via a remote control inside the comfort of the towing vehicle.
Mr Martin said the biggest saving is the trailer's ability to be towed between properties and in a paddock by a ute or four-wheel drive.
"So your tractor is still available for other jobs on the farm and not always tied up to the feeder.
"We don't have to climb in and out of a tractor because as we get older it gets harder and harder to do that.
"We also don't have to climb onto the machine itself so some of our better clients are the older generation who are buying them so they can keep working on their farms a little longer.
"Which makes sense when we are all struggling for a labour resource.
"And we find the younger generation are buying it for their fathers to use, so those in their 60s, 70s and 80s are using these with absolute ease.
"There's no way you'd be sending your father at 80 years old to climb onto the back of a ute to try to feed out some hay.
"That's where a line is drawn in the sand."