Award for mixer innovation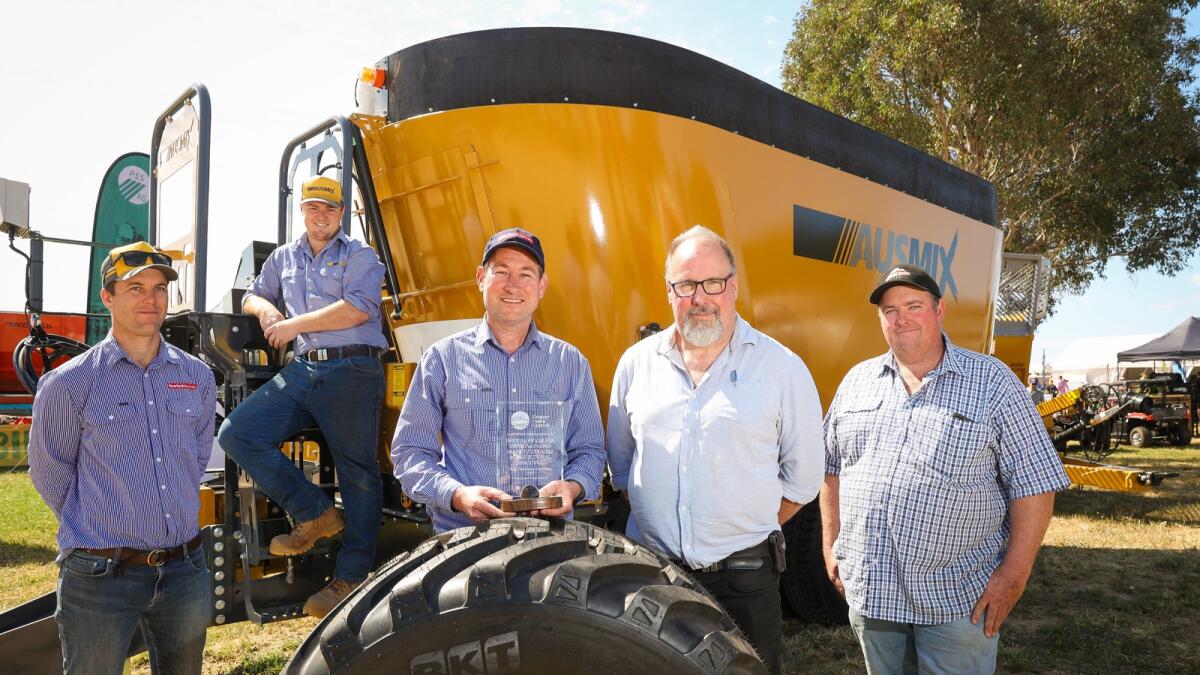 A regional Australian agricultural machinery company's newly released feed mixer has won the coveted Greater Hume Council Award at the 2023 Henty Machinery Field Days.
The award recognises the best new Australian designed and built agricultural machine and was judged by a panel of independent judges.
The award was presented to FarmTech director Brad Modra for the Ausmix XL26 Fibrex 26-cube feed mixer.
Ausmix has been producing feed mixers out of Wodonga for the past three years, with more than 60 mixers having been supplied across Australia.
Judge Warren Scheetz said the machine had a robust design, which increased the efficiency of feed mixing time "and that all adds up when doing multiple feed mixes each day".
FarmTech northern Victorian and South Australian territory manager Liam Talbot said the chassis, bowl, augers and conveyor were designed and built in-house with the driveline being outsourced to a reputable Italian supplier.
"As we manufacture these units in Australia, we have a warehouse stocked with parts ensuring any breakdowns or issues are fixed in a prompt manner," Mr Talbot said.
"The XL26 is expected to be the flagship model with full customisability to suit any farming operation."
With Australian farmers aways looking for ways to increase profitability and reduce feed costs, Ausmix has developed extra wide bowls to work in concert with the Fiber-X augers to break down big bales and mix them to a final Total Mixed Ration.
Ausmix knives are heat-treated with tungsten carbide, allowing them to be thinner, lighter and tougher than ever before.
Ausmix tubs are designed to last in the harshest Australian conditions and are made with thick steel plates all around: 20mm on the floor and 10mm on the walls. The wall's angled slope works to help funnel materials into the centre of the tub.
Together with the centripetal motion from augers, materials fall deeper into the mixer, ensuring maximum blade contact, significantly reducing time, fuel and effort.
Ausmix XL series mixers come in both a standard wide body (2.5m) and extra-wide 2.65m body. The latter option gives the larger, denser bales more space, reducing any material being thrown out
The mixers have a drive-train equipped with a heavy-duty gearbox with the ability to handle high torque loads, propelling the augers through big bales and mixing all fodder types with a consistent result.
Key innovations include a front feeding conveyor belt which can either be steel slats or a rubber belt and side elevator options, all on a heavy-duty reinforced chassis.
FarmTech director Brad Modra said the company was passionate about making farm machinery in Australia.
"This award is a huge pat on the back for our hard-working team at FarmTech for the last three years spent on the Ausmix Feed Mixer project," Mr Modra said.
"I want to give a big shout out to Australian manufacturing and all these companies exhibiting at the field days — quality farm machinery is leading the way both in Australia and internationally.
"Thank you to the farming community for showing faith and confidence in Australian made equipment. Without your support we wouldn't be here today."