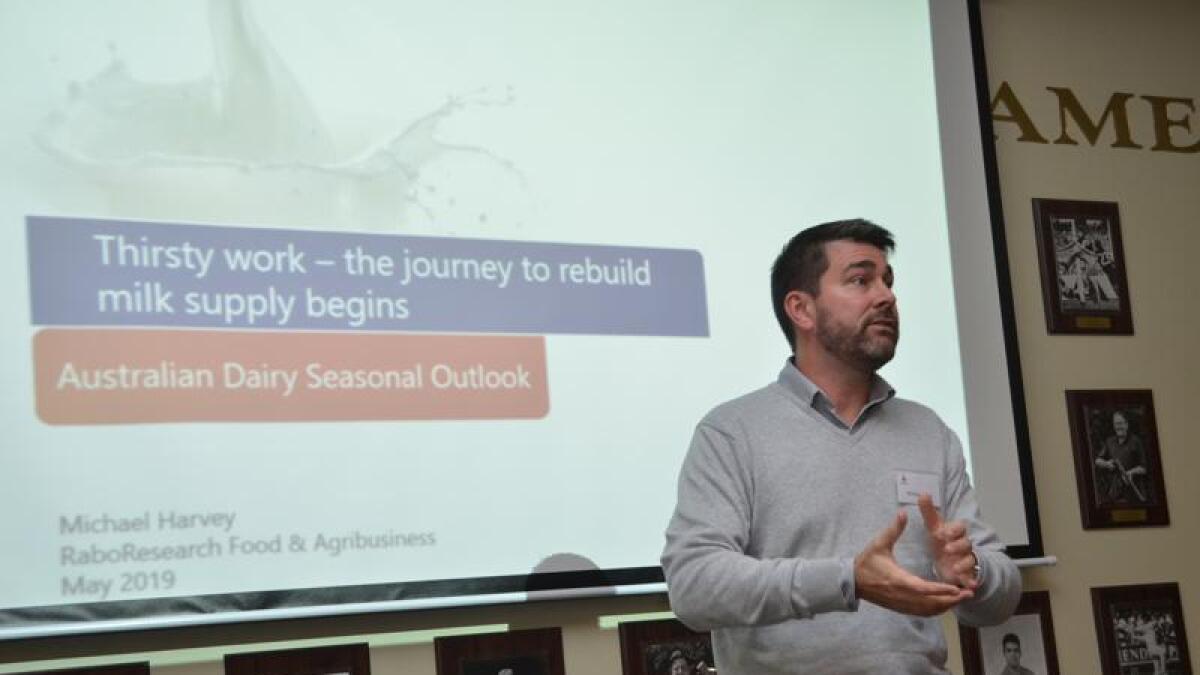 DAIRY FARMERS attending an industry update by rural bank Rabobank in Kyabram recently were shown a glimmer of hope.
Rabobank senior dairy analyst Michael Harvey said 2019–20 should be a profit year for dairy farmers.
But Mr Harvey also pointed to continuing challenges from high water prices, depleted water storages and the cost of purchased feed.
The profit forecast for next year was predicated on the hope of more home-grown feed being available.
"The water market will remain heated," he said.
He also acknowledged northern Victoria was undergoing structural change which would result in lower production and fewer farmers.
Rabobank has forecast an average price of about $6.40 kg/milk solids in the southern region for the 2019–20 season.
Mr Harvey believes there will be intense pressure on processors to find milk supply — but they will also be challenged to find efficiencies in their factories as throughput is reduced.
But he said it was unlikely they would attempt to rationalise assets in northern Victoria, as many of them had invested heavily in updating and renewing their equipment.
Since Rabobank's review issued in April, several companies have indicated opening prices for the new season.
Mr Harvey acknowledged a dramatic reduction in supply from northern Victoria which had been reinforced by the most recent production data.
"The February and March figures look pretty ugly as well," he said, pointing out that this was the hardest hit region.
Northern Victoria remained a "first port of call" for northern processors seeking supply for fresh milk but there could be a five per cent production cut next year in the region.
Globally there were some signs that the fundamentals were good and continued to improve.
"There has been a good price rally since the start of this year," Mr Harvey said.
"We see a period of sustained higher pricing which will follow through to better farm gate prices in the 2019–20 season."
New Zealand milk production had declined in recent months and he expected flat production growth from New Zealand next season.
Only modest growth was expected from the United States next season.
The EU was expected to increase supply but the growth would be less than one per cent.
"We have some confidence that Europe will not flood the market in the short term."