Shining a sustainable light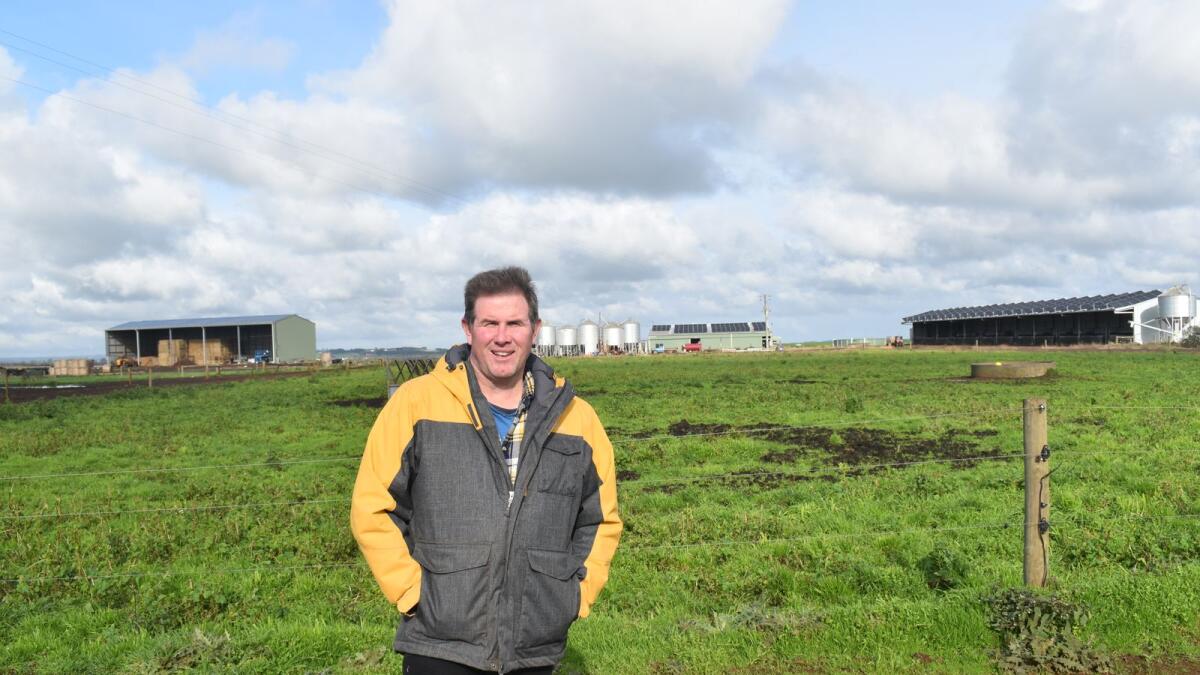 The solar panels on John and Rochelle Pekin's dairy look impressive.
Then you see them on the calf shed and the machinery/hay shed as well — and you're really impressed.
All up, the farm has 250 kilowatts of solar power on the three roofs and 520 kilowatt-hours in a battery — and more panels are planned for the five houses on the property.
The solar is part of a four-pronged plan to make the farm sustainable, with methane meters, carbon storage and hydrogen as an alternate energy source all on the agenda.
Their efforts so far have been rewarded.
John and Rochelle recently won the Great South Coast Natural Resource and Sustainability Management Award, impressing judges with their ability to integrate both productivity and sustainability goals into their dairy farm business, proactively seeking out the latest information and trialling new approaches.
The Pekins milk 900 Friesian cows. Their farm near Simpson, in Victoria's Western District, covers about 450ha with a milking area of about 365ha, effectively leaving them to milk about a cow per acre.
Previously they farmed in partnership with John's parents and brother, but John and Rochelle purchased the property outright last December. Living with them on the farm are their children Anderson, 8 in August, and Quinn, 6.
It's a good area for dairy farming, with about 900mm to 1000mm of rain per year, and John and Rochelle want to make the most of it.
The farm started to grow from 2005-06 when a new rotary dairy and feedpads were built and neighbouring farms purchased. They went from 300 cows up to about 800 and in the past year that has increased to 900 with plans for 1000 next year.
Heifers start calving about January 10, synchronised with sexed semen, and the cows start on February 15 with most finished by April 15. More cows than usual have been kept this year to build numbers.
Ideally, six full-time staff are needed alongside John and Rochelle.
Finding staff can be a problem — and calving was tough this year — and John wants everything in the place to be sustainable to make it easier on staff as well as better for the environment.
"There are 1100 acres here; we've been milking off 900 but we've put the infrastructure in so we can milk off all of it," John said.
The updates include more tracks to make everything more accessible and quicker, and earthworks have been done to set the scene for new cow shelters for extreme weather conditions — mostly during the cold and wet winters, but also potentially during hot summers.
"We'll have 7200 square metres undercover and I think we'll have enough to put 1000 cows under cover every night," John said.
"That will extend our rotations and take the pressure off the paddocks over winter."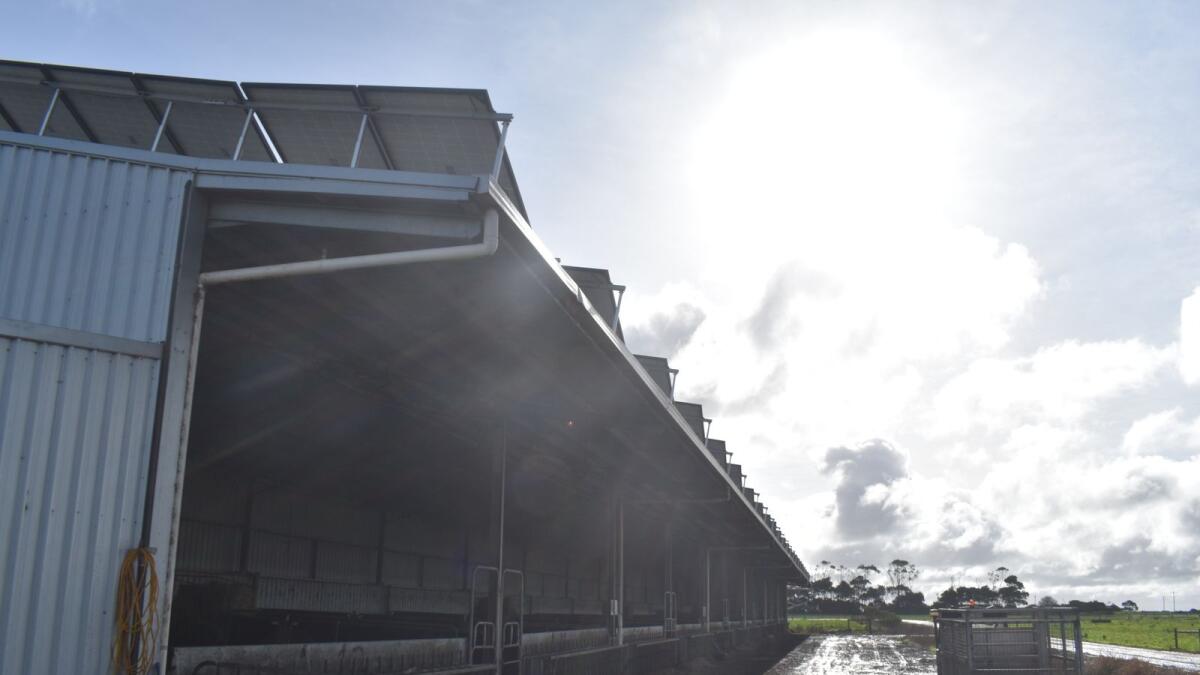 The addition will also be about people management.
"We're asking people to get out of bed at four o'clock in the morning to milk cows and having the cows in the shelters means consistency — the cows won't be in a different paddock every morning."
The shelters will be set-up so the cows can access the existing feedpad.
The farm has a good pasture base for home-grown feed but the Pekins buy in a fair amount of hay and grain to keep up the high herd numbers and maintain production.
"The balance is all right but it's something I need to keep an eye on," John said.
With their sustainable changes, John was determined they had to be profitable.
"We've gone down the road where we want to be sustainable but we're not prepared to compromise production.
"We're getting around 600 to 650kg MS, which is up the top end, and we want to use technology that will be sustainable and help that.
"If anything, I hope our production will grow. I'll see we've got free power and say let's use a bit more of it."
The move to solar across the three main sheds was supported by some significant grants from the Victorian Government and came about from necessity.
"When the dairy was built 17 years ago, we were milking 300 cows and the dairy was adequate," John said.
"When we grew and it all happens at the dairy in three-hour periods at each end of the day, we were over the 100 KBA on 315 days of the year. We were at the stage where we were going to blow it off the pole if we didn't do something."
The solar panels went up in June 2021, dropping the power bill by about 25 per cent. The battery kicked in on January 26 this year, although there were some teething problems with the software and linkage to the grid.
"It's up and running now but I won't know the actual saving until we get the next bill," John said.
"All the data indicates it will be a big long-term saving."
The next chapter will be a methane reduction trial project in coming months, being coordinated by Commpower Industrial.
Methane meters will be installed in the dairy and a feed additive will be trialled to attempt to reduce the emissions.
"Methane is our biggest emission so we need to get that under control," John said.
He hopes the methane and solar combined will allow the farm to sell carbon credits.
The existing solar will run the effluent irrigation system.
"When we had 300 cows, we had a lot of time between milkings to run that. Now the milkings are closer together and we're often short of labour."
They are also investigating hydrogen motors to replace diesel engines in the farm's tractors.
John has farmed the land for 31 years and freely admits he loves the place.
"We want the whole property to be sustainable. We want to get cash flow back but we're also looking at solar for the five houses on the property and on other pumps.
"There's an appetite for carbon-neutral product.
"It's not going away. The consumers, processors and supermarkets all want it."