Keen bidding at Riviera sale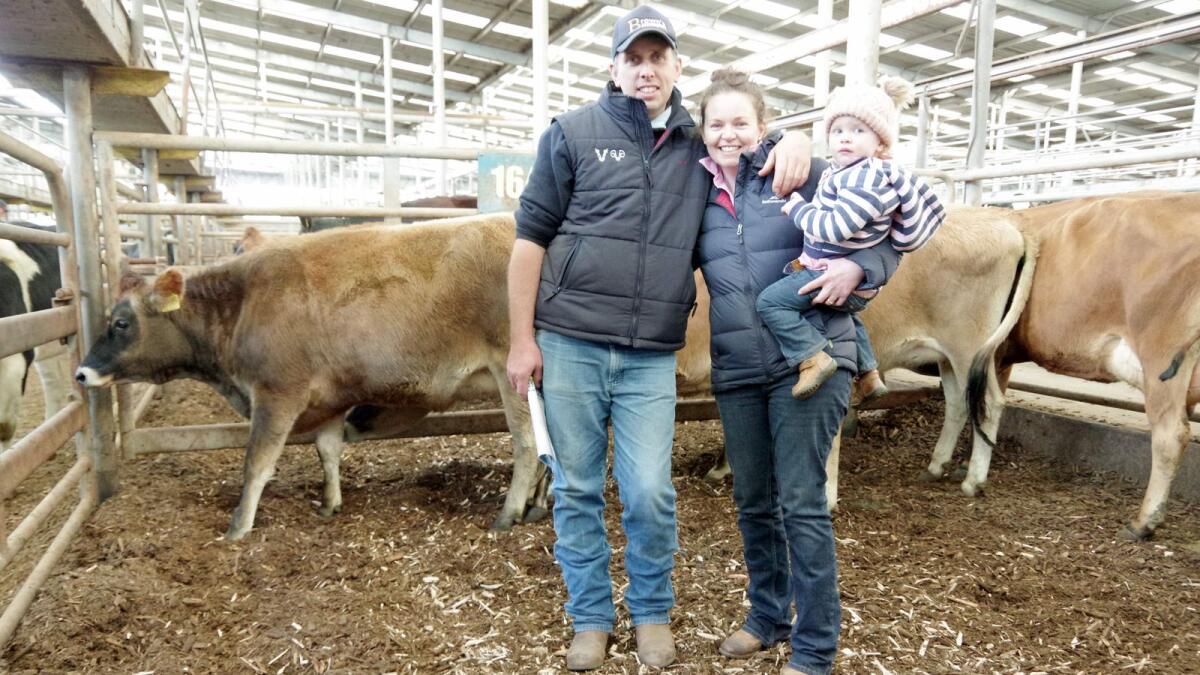 A 98 per cent herd dispersal at Koonwarra in May saw a Jersey heifer sell at the top price of $9500, with her sister selling at $7250, in a strongly contested sale with more than 100 registered bidders.
Scott and Tahnee Wilson, Riviera Farms, Nyora, have been sharefarming in South Gippsland, but May 16 saw the dispersal sale of their herd of Holstein, Jersey and crossbred cows and heifers, for a sale average of $2400.
Dairy Livestock Services managed the sale at Koonwarra Livestock Selling Centre with a live online simulcast managed by Elite Livestock Auctions. Elders' Michael Robertson was the auctioneer in the ring.
There were registered Jerseys of Jugiong breeding on offer, along with two heifers from direct daughters of EX 94 Bushlea Nathan Belle.
There were also a number of registered Holstein cows among the 100 autumn and freshly calved cows, and winter and spring-calving cows and heifers on offer.
The sale began with straws of semen selling for up to $175 each.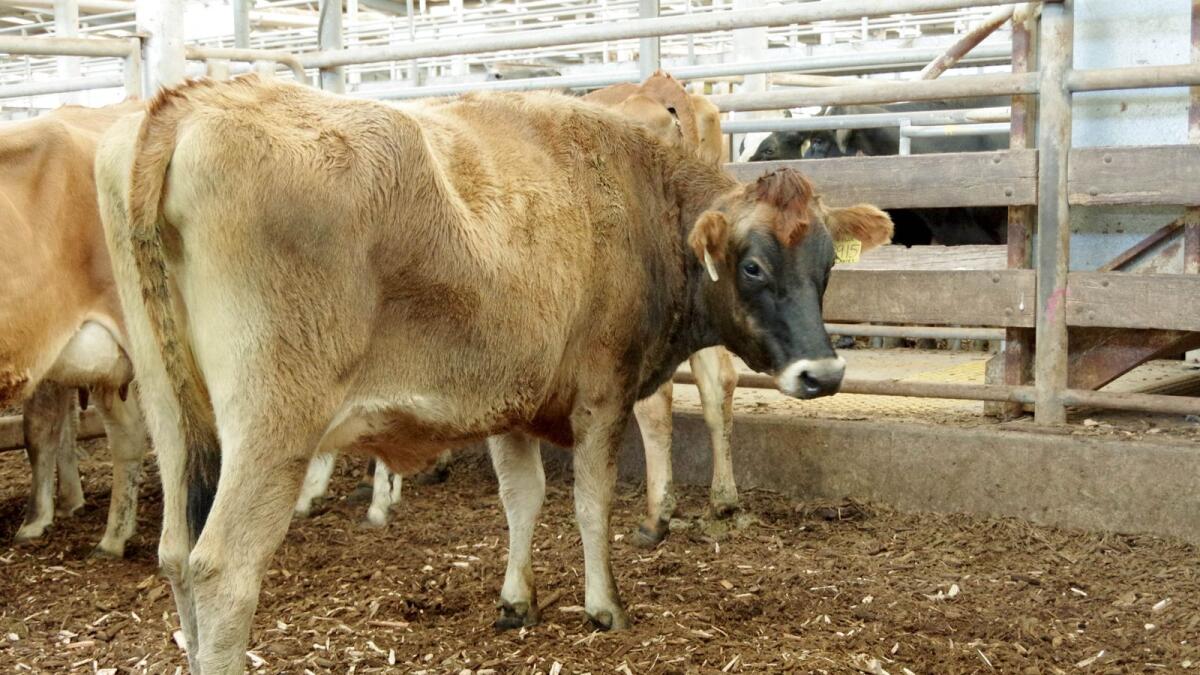 The livestock component opened strongly with four-year-old autumn-calved Holstein cows selling in pairs, with the second pen lifting to $3100 for Lot 4, replicated for Lot 6 in the third pen. Springers also pulled in prices up to $3100.
Holstein cows sold to $3500, for an average of $2660. The higher producing cows achieved the highest prices.
Registered Holstein cows sold to $3200. Holstein heifers sold to $2750, for an average of $2440.
Registered Jersey cows, autumn-calved, sold to $2600, with spring-calvers going out the gate at consistently higher prices, up to $4000.
The Jugiong, Attaview, Wanstead and Emu Banks studs were looking for additions for their herds, and all bid successfully on Jersey cows and heifers.
There was also spirited bidding from online registered buyers, and local support from Gippsland dairy farmers was strong.
Jersey cows sold to $4000, for an average of $2315.
Crossbred cows sold to $2500, for an average of $1900.
Standout heifers were two rising-two-year-old spring-calving Belle heifers, embryo transfer daughters to EX94 Bushlea Nathan Belle and sired by Galaxies Celebrity.
Lot 146 sold to $7250 and Lot 147 sold at $9500, both purchased by Bryan and Jo Dickson, of Emu Banks Holsteins and Jersey Stud near Terang.
The heifers' selling prices brought the average sale value up to $4650 for Jersey heifers.
Bryan Dickson told Dairy News Australia that the purchase of the heifers was part of a re-establishment of he and Jo's herd, as they look to increase the Jersey component to 40-50 cows, and reduce the number of Holsteins they milk.
"We're getting back into Jerseys, and looking to add Belles into our herd. These two heifers score really well and if they work out I can breed from them," Bryan said.
"We're reducing our herd size from 1000 to about 700 milkers and bringing a lot of heifers in from our out-block this year."
The overall average for the Riviera Farms dispersal sale was $2400, for a 98 per cent clearance.
Cattle went to dairy farms across Gippsland, south-west and northern Victoria, and into NSW.