High labour costs confirmed
A new study has confirmed Australian dairy farms have one of the highest, if not the highest, labour cost per litre of milk in the world.
The new paper by farm economist, dairy business analyst and managing director of Red Sky Agricultural, David Beca, shows the Australian labour cost per litre was on average 33 per cent higher than in New Zealand and 49 per cent higher than in the United States.
The paper, Labour Cost and Labour Efficiency Within the Australian Dairy Industry, has been accepted for publication by Australasian Agribusiness Perspectives.
Mr Beca compared total labour costs to five other countries — the US, New Zealand, Argentina, Uruguay and South Africa — over the past six years and found Australian farms are at the top.
He said the cost and availability of labour to operate dairy farms have become more important for Australian dairy farmers over recent years, and have been further exacerbated by COVID-19 and the closing of international borders.
"Retaining access to a ready and willing pool of people interested in working on dairy farms is important to the long-term viability of the industry," he said.
"Equally important is ensuring most farms are sufficiently profitable for farmers to afford the cost of employing enough labour to operate their business efficiently."
Mr Beca said increasing cost of production on Australian dairy farms over the past 20 years was higher than most other countries, resulting in a reduction of profitability compared to most other countries and a reduction in national milk production.
The primary reason for reduced profitability has been the comparatively rapid increase in total feed cost per litre or per kg of milk solids — but the cost of labour has also increased significantly.
Mr Beca said hourly or annual wage rates were often quoted as the primary factor.
"Australia has some of the highest minimum wage rates, however, labour efficiency or productivity is the second factor that influences total labour expenses," he said.
His analysis of labour efficiency in Australia, including the impact of farm size and production system, confirms Tasmania and Victoria have a comparatively high level of efficiency while NSW, Queensland, South Australia and Western Australia have comparatively low levels of efficiency.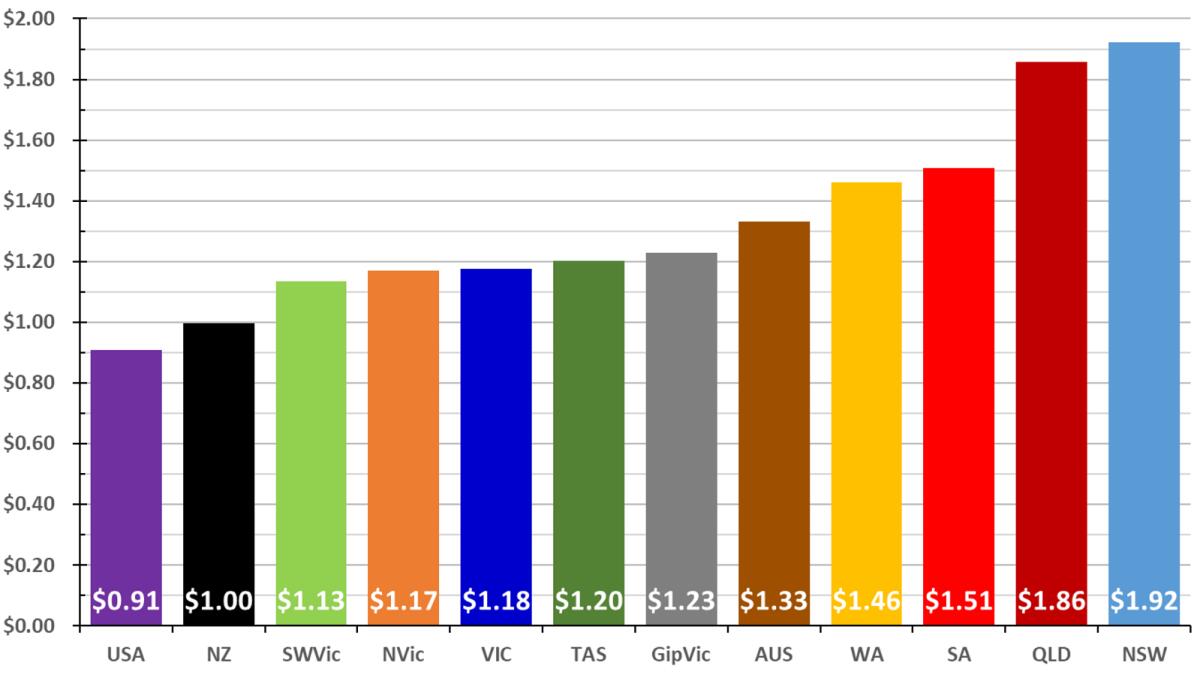 Mr Beca said labour cost per cow had increased rapidly on most Australian dairy farms and was now significantly higher than in competing pasture-based countries and similar to the cost in the US feedlot industry.
"The difference in cost is substantial and it is reducing the competitiveness of the Australian dairy industry compared to dairy industries in other countries."
A review of eight countries, also including Ireland and the United Kingdom, found Australia has the highest minimum wage rate, eight per cent higher than the UK and about 40 per cent higher than the US, NZ and Ireland.
There are a number of other factors likely to influence labour efficiency including the level of infrastructure improvements and the size of the dairy shed, the level of technology used such as cup removers, and the skill level of management in activity planning and task implementation.
Mr Beca said labour costs per cow increases and labour efficiency decreases as milk production per cow increases.
"One of the results of Australian farmers changing their productions systems over the last 20 years by focusing on increasing milk production per cow through increasing the amount of supplement being fed and decreasing the percentage of pasture in the cows' diet, is a decrease in labour efficiency and an increase in labour costs per cow."
Despite the cost challenges, Mr Beca said there was a significant opportunity to improve labour efficiency in the Australian dairy industry through a focus on labour cost per cow and number of cows farmed per full-time person equivalent.
He said an understanding of the differences between Tasmania and Victoria's comparatively high level of labour efficiency, and the lower levels in other states, could provide the dairy industry with an opportunity to target projects and programs to improving efficiency in states with the greatest need.
This might also include infrastructure development, labour-saving technology including items such as cup removers, and improving management organisational capability.
The paper is available on the Red Sky website.