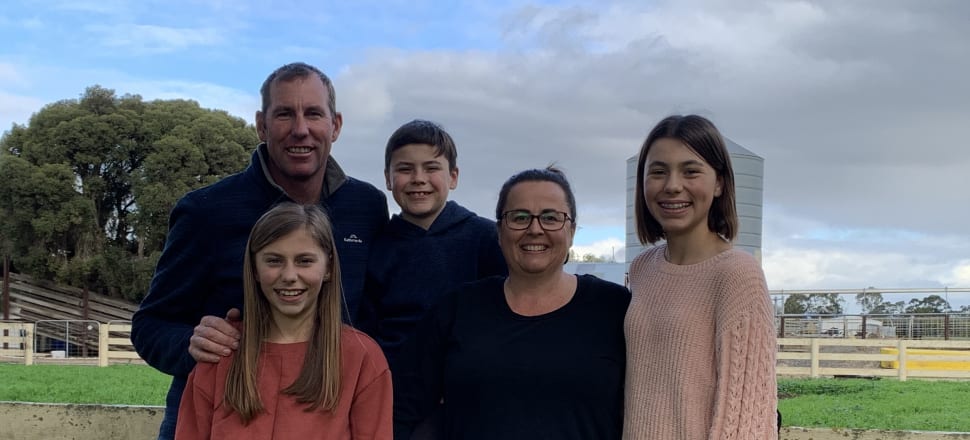 5370537724001
Home schooling her three children – Zoe, 14, Katy, 11, and Josh, 9 – was just something else Gippsland dairy farmer Sarah O'Brien has had to learn to fit into her busy farming schedule.
Like many others across the country, Sarah and her husband Mike have had to juggle life on the farm educating their children, and it has been a rewarding and challenging situation.
The two youngest attend a small country school while Zoe attends a private school.
"The teachers have been really good and there has been a lot of support from both schools for our three kids," Sarah said.
"Zoe has been independently learning and if she gets stuck with maths and science, we have been able to Google our way around it.
"I found the work was a bit too easy for Josh and with the school's guidance he was moved from Grade 3 to Grade 4 work and that has helped challenge him – initially he was zooming through his work and now it takes him a little bit longer."
Sarah was amazed by the technical knowledge of her children, who know their way around computers, programs and uploading photos and documents very well.
Both her daughters are avid dancers and they have been completing online dance classes through Zoom, while Josh has been continuing taekwondo lessons.
"We have to learn to be flexible and Mike and I make a pretty good team," Sarah said.
"We have been able to share the load – I was ill at the beginning of home schooling and Mike did a great job of settling the kids into home schooling when I couldn't.
"Everyone in our farm team have been flexible with me not being so readily available with home schooling.
"Also staff have been fantastic settling into new hygiene and work practices we've adopted through COVID-19."
Sarah was grateful she did not have to juggle home schooling with calving cows.
"Our herd is spring-calving, which gets under way August 1. I would hate to think how difficult it would be if we had to do both; it certainly would have been a lot more hectic."
Sarah and Mike sharefarm with Mark Wilms and Andrew Balfour at Denison, in the Macalister Irrigation District.
They moved to Gippsland in 2007 after the drought made progressing in the industry more difficult in northern Victoria.
"I wasn't born into farming; I married a dairy farmer and had previously worked in management and in community welfare," Sarah said.
She has now added milking, calf rearing, book work and mothering three children to her list of roles.
"When we first moved to Gippsland we worked on the Macalister Demonstration Farm but after five years we had progressed as far as we could and we were looking for another challenge."
Sarah said the opportunity to move into sharefarming at Denison was a decision they didn't take lightly, first moving into a farm management role to see if all partners were a good fit.
"Often sharefarmers fall out of the industry because of breakdown in farmer/owner working relationships, sometimes with one trying to take advantage of the other, or expectations not being met, but honestly we couldn't have found a better partnership."
She said open communication, common goal setting and support from farm owners were key to the success of their partnership.
"The owners are progressive, always fair and we seem to have the same ideas and goals."
The O'Briens own stock, machinery and a turnout block that's used within the whole farm business, which supports the dairy farm platform. While they wouldn't rule out one day owning their own farm, they are currently happy where they are.
"Who knows what opportunities will pop up in the future; we work well with the owners and are happy with the share we currently have," Sarah said.
"As part of our arrangement, our farm consultant runs his eyes over the books at the end of every financial year to make sure the cost base and profit base is fair and progressive for everyone."
Sarah said the adoption of online learning by Dairy Australia had also been beneficial.
"GippsDairy staff have had great communication with us over the past few months keeping us informed of learning opportunities occurring online.
"And the benefit is there is nowhere near as much racing around getting all the morning jobs done and trying to get to a course on time.
I can sit down at my desk with a coffee and I am ready for a webinar or whatever happens to be online.
"And I find it even more exciting for our Industry, as new people are tapping into this resource – I really hope it continues in the future, there's definitely a place for online learning in farming."