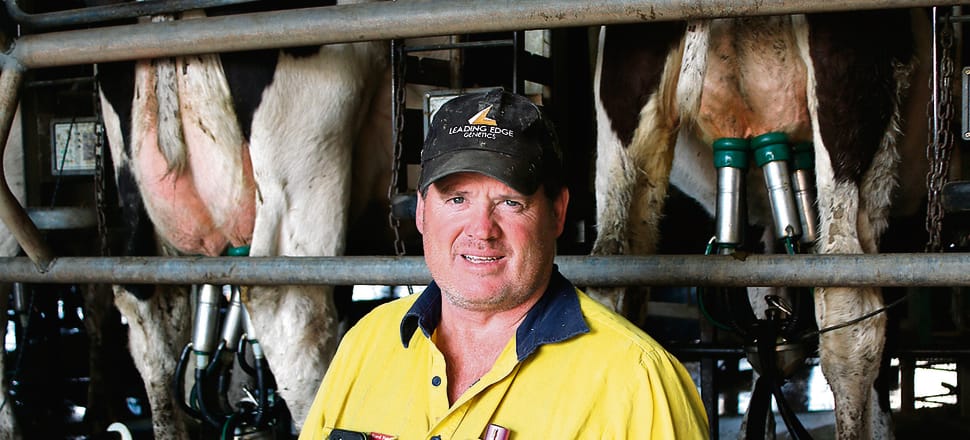 5370537724001
AFTER 35 years as a dairy farmer, Peter Hanrahan is adamant the past five years have been the most difficult he's experienced.
Mr Hanrahan, from Stony Creek in South Gippsland, has made on-farm changes to cope with stagnant prices and added a new enterprise to boost the bottom line, but he still worries about the future of dairy.
Milking about 900 Holstein cows on 500ha, things should be looking good with production strong and the weather playing its part, at least in the lower reaches of Victoria.
"We're in the midst of potentially a very good season but who knows what the next months have in store for us," Mr Hanrahan said.
He knows his farm is in the minority when it comes to a good season, and his bigger picture worry about the state of the dairy industry and Australia's changing demographics leave him close to despair.
"We've lost a third of dairy production in Australia in the past 20 years," he said.
"Processors tell us they want growth but as an industry we can't afford to buy land to expand and we're getting sold down. You wonder if there's any future in it."
Mr Hanrahan moved onto the family farm in in the 1980s during a severe industry downturn but it wasn't as bad as today.
His son Pat is now helping manage the farm and two younger children are keen on careers in agriculture, but when they're being paid the same price as 20 years ago with no hint of anything substantially better on the horizon, it's hard to feel positive, he said.
"They'll say it's a great milk price at $6 but when you consider the price of land, water, all other inputs and the ongoing seasonal challenges, you think why bother?"
The lack of access to young, skilled workers troubles Mr Hanrahan, who fears the drain to city areas not only hurts farmers but local communities and sporting clubs.
"The 18 to 35s who were here until the '80s are no longer living in the regions.
"How do we grow without skilled labour? If things are to grow you've got to pay a premium to attract people to the regions but at the prices we make we can't do that."
Mr Hanrahan said drought and harsh environmental conditions were "part of the game" and farmers could cope better if they were paid a fair price, at least 50 cents more per litre.
"It's frustrating that companies have pushed us to make more milk to make it easier for them to manufacture but the industry has continued to decline and farmers wear all the risk."
He has diversified to offset some of the challenges facing dairy, adding a poultry farm to the mix.
"I needed a non-weather dependent business," he said.
He now farms 400 000 chickens and while it's "no free lunch" the enterprise is going well.
"It's a significant investment and a learning curve. We don't have to breed and grow the feed for the chickens — a point of difference that makes the complexities of dairy so intense."
Mr Hanrahan, Pat and their two employees and five backpackers constantly scrutinise budgets to stay afloat.
In the next two years he aims to phase out autumn calving to concentrate solely on spring.
"We've been split calving for a number of years but will look to phase it out because of the risk associated with autumn calving when there's not a good return.
"We've all got great passion for agriculture but the past five years have been incredibly tough, the hardest of my 35 years in the industry. It's scary times."
Mr Hanrahan's wife Catherine sits on a health industry discussion group looking at farmer mental health generally and how to provide support to farmers with mental health issues. He has concerns for those farmers who are pushed to the limit and are struggling with their health.
"The pressures have become so great and people are not out there communicating like they once were. Everyone's on tenterhooks and it's not a healthy way to live."