Rosy market outlook despite the ongoing pandemic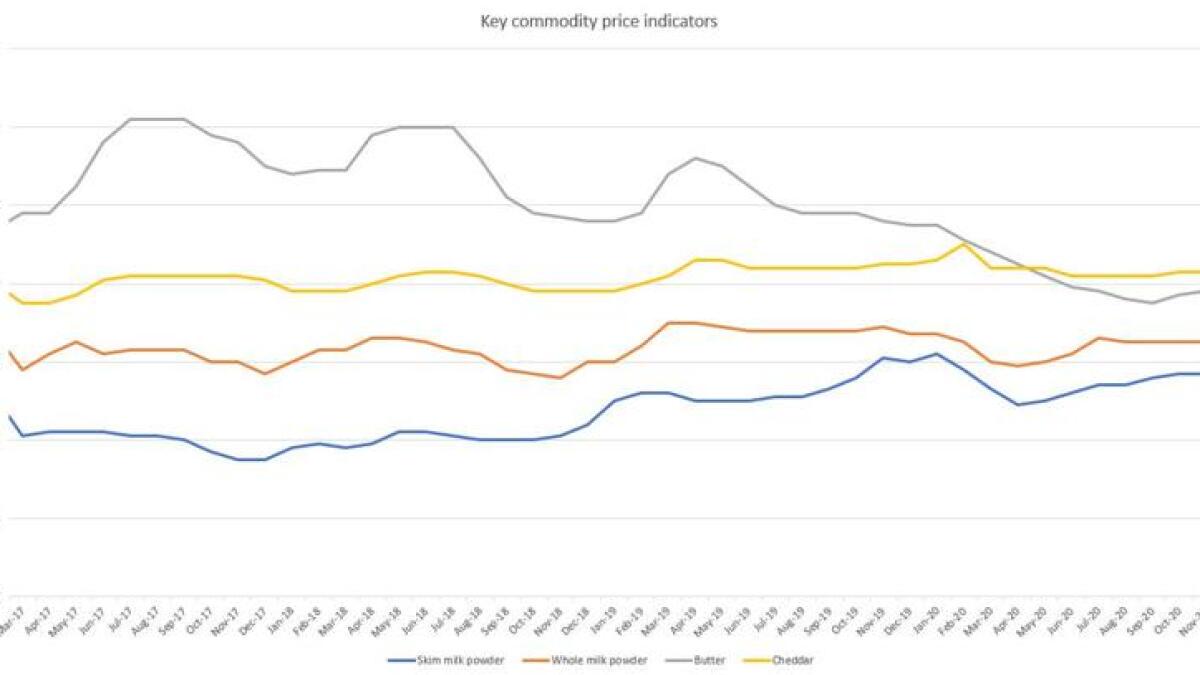 Given recent events in Washington DC, the United States has unsurprisingly dominated the news cycle as of late.
As the country continues to break daily COVID-19 death records and harsher pandemic restrictions are announced, a new stimulus package is being rolled out.
With it comes renewed support for the US dairy industry, which could further impact broader patterns of supply and demand.
Throughout 2020, the US has emerged as a key milk production growth driver, and thus any change to the local market balance is likely to be felt, even 15,000 km away in Australia.
Despite an ongoing pandemic, global appetite for dairy has remained remarkably resilient, underpinned by strong Chinese demand.
This demand has been a contributing factor to the four per cent increase in global dairy trade in the 12 months to August.
Milk powder demand has been particularly strong, driven by Chinese stock building, in part due to a renewed focus on local food security.
In comparison, demand remains uneven in some price sensitive markets, where economic pressures and increased unemployment is a hinder to growth.
During this pandemic, sales of milk fat products have been the most impacted, due to the high exposure to the foodservice industry.
However, since the start of 2021, milk fat prices have made a resurgence and are closing in on pre-COVID-19 levels.
While new lockdowns in the Northern Hemisphere continue to suppress demand from the global foodservice sector, consumers across the world have been buying more dairy products in retail stores.
This increase in retail interest has helped to partly offset the loss from sales in the foodservice industry, however, the longevity of this demand is a concern. Some of this demand is currently fabricated by various government stimulus packages.
For example, in the US, the USDA's Farmer to Families Food Box program has, according to industry experts, accounted for around two per cent to five per cent of total domestic dairy demand. This has helped to absorb additional milk produced during 2020 and made up for the loss of other sales channels.
While this sort of government stimulus has been successful at keeping the market buoyant, it is a temporary Band-Aid which eventually will be phased out as economic pressures mount. When this occurs, the strength of consumer demand is expected to be put to the test.
Turning to the supply side of the dairy equation, growing global milk production was earlier in 2020 flagged as a potential worry.
For the first time since 2014, production in the four largest dairy exporting regions (Europe, New Zealand, US and Australia) was increasing for more than four months in a row.
However, a dry spell in NZ and the EU curbed milk flows at the end of 2020.
In Australia, milk production growth has faltered over the spring as a smaller national dairy herd and issues around labour availability have formed limitations.
These constraints are unlikely to be resolved in the immediate term, and after February, year-on-year comparisons will be against much stronger prior-season numbers.
With that in mind, Dairy Australia now expects milk production to track towards the lower end of the current one per cent to three per cent growth range for 2020-21.
In stark comparison to the slowdown in other regions, the US continues to record solid growth in milk production — with an expanding herd.
In addition to a demand stimulus, US COVID-19 support packages have incentivised production, driving significant monthly growth rates.
In December milk production increased 3.2 per cent in the US, with milk flows in the last quarter of 2020, three per cent higher than the year prior.
As the dairy herd in the US is estimated to have increased, with more than 100,000 cows in December 2020 compared to the year before, continued growth is to be expected.
As COVID-19 vaccinations are rolled out and dairy demand continues to hold, there is definite cause for optimism heading into 2021.
A slowdown in global milk production growth combined with new government stimulus packages is likely to keep the market relatively well balanced for now.
However, there are still some risks to this balance, as COVID-19 related restrictions continue to cause significant strain on the global economy and stimulus packages are phased out.
While we are facing a year with many new developments, including a new US president, the one thing we have not yet been able to shake, is this pandemic.