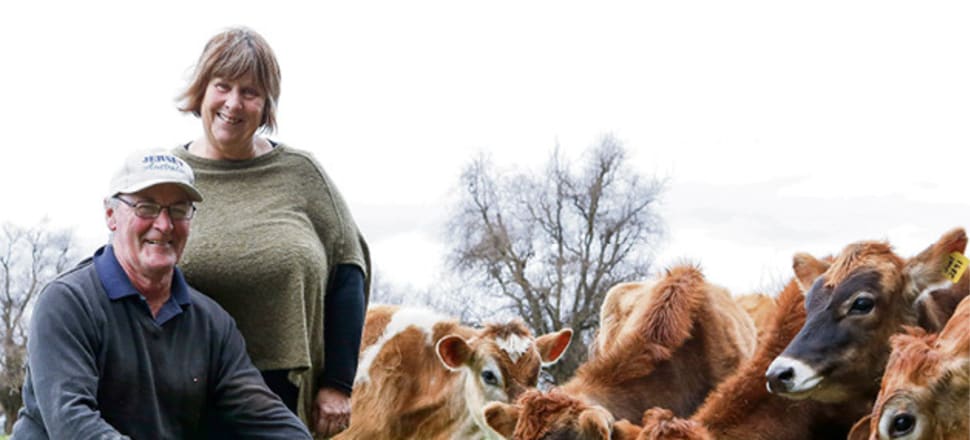 5370537724001
THE SALE of the Jimann Jersey herd of Rochester's Trevor and Julie Campbell is the end of the era.
Not just because they are exiting the dairy industry but because they are the very last of the original Rural Finance and Land Settlement Commission dairy farmers (Rural Finance blocks).
The Campbells' purchased their 42 ha dairy farm through the scheme when they were in their early 20s, way back in 1976.
"We were sharefarming at the time and had our own dairy herd. We had to go through an extensive application and interview process to be accepted," Julie said.
Their little farm consisted of three water troughs, three main paddocks, a shell of a house and dairy, a machinery and hayshed — they basically had to fit-out the dairy and house and away they went.
"In the first year we were limited to milking 65 cows because the pastures were so underdeveloped," Trevor said.
Looking back the couple said their purchase never felt risky but rather like an exciting adventure.
"We were ambitious and both grew up on farms, (Trevor dairy and Julie sheep and cattle) so we knew we were doing what we wanted," Trevor said.
"We bought our farm at a time when people were building pits to put their dead cattle in," Julie said.
"We sent some heifers to Bendigo for processing and I can remember getting a bill back for them instead of a cheque but we knew things would turn around if we stuck it out," Julie said.
Back in the day the block came with access to what was considered a state-of-the art irrigation system consisting of an open channel with water piped to each individual farm.
"The soils in the area were light and sandy and channels wouldn't have been practical," Julie said.
"The downfall of the system was we had to share water delivery on a roster system that depended where you were placed on the system as to how and when you could water and if it rained and you were next on the list, you had to water.
"It had its downfalls which is why so many deep lead irrigation bores went in."
The Campbells put their first bore down in 1983 and over the years there have been many repairs and the establishment of a complete new bore.
Their bore never ran dry although there were times when they had to put extensions on and go a little deeper.
In 1999 the opportunity to purchase an additional 16 ha came up when a neighbouring farmer split his block in half and sold.
At their peak, the couple milked 180.
The couple can remember many tough years especially during the millennium drought when they had two years of zero allocation, followed by two years of 32 and 38 per cent.
Over a six-year period they averaged a 20 per cent water allocation and their bore was limited as well.
"We couldn't buy water on the Campaspe system and that was the problem," Julie said.
In 2010 the Campaspe Irrigation District shut down which Trevor said was basically the nail in the coffin for dairying on the system and the Rural Finance blocks.
"There used to be 38 dairy farms and now there are six left. We only stayed on because we loved our cows so much," Julie said.
But after 43 years of dairying, the Campbells sold their milking herd and recently auctioned their rising two-year-olds.
Under the circumstances, they were very happy with the sale.
Top priced lot was Jimann Valentino Maisy, a two-year-old daughter of an EX 90 Mannix Rebel dam with records to 323 kg fat; she sold for $3600.
Selling the herd was pretty tough considering Trevor has been breeding his own stock since he was 15.
He has had a lifelong love of cows that has never abated.
He is a classifier and a life member of Jersey Australia.
And he can remember the very first moment he first fell in love with cows.
"I was about four or five and I was looking out the bedroom window and a Jersey cow dropped this tiny little calf with a star on its head and from that minute on, cows became my life," Trevor said.
"At that stage it didn't matter what colour they were either, I just loved cows — it is something that has been in me as long as I can remember."
Trevor said he always enjoyed the challenge of breeding the next generation of stock and he loved the camaraderie and interaction with other Jersey breeders.
At this stage the Campbells still have 40 rising one-year-olds and few old cows they couldn't part with.