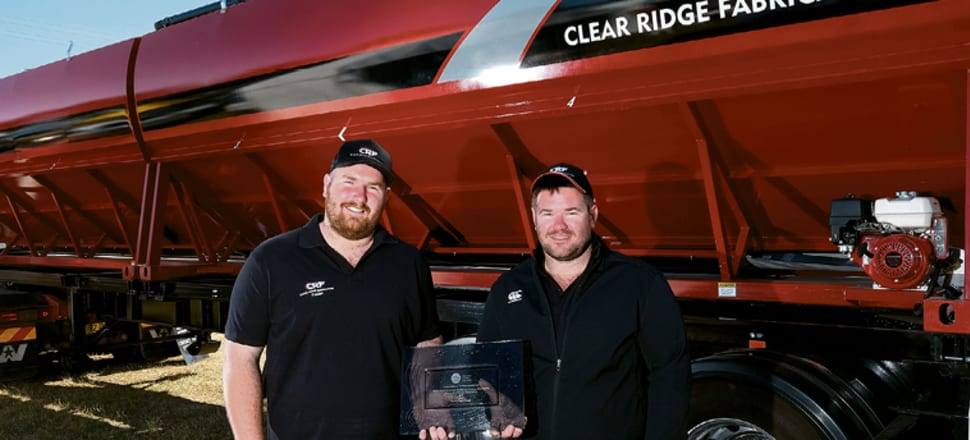 5370537724001
A SOUTHERN NSW designed, and manufactured grouper bin has won the coveted Greater Hume Council Award at the Henty Machinery Field Days.
Kaidan and Dallas Boyd, of Clear Ridge Fabrication, from West Wyalong, won the award for their CRF SUPA Bin 42 000.
The award recognises the best new Australian designed and built agricultural machine and was judged by a panel of independent judges at the Henty Machinery Field Days.
Launched in time for the autumn sowing season, the CRF SUPA Bin 42 000 is the result of growers wanting a bin to reduce fill-up times and contamination between seed and fertiliser for air seeders.
Traditionally, the Boyd family crop 3441 ha of wheat, barley and canola north of West Wyalong.
When the drought took hold, the family made the decision to lease out their farm and the two brothers combined their talents as qualified welders.
"On the farm, we always wanted a bin like this but had the time and opportunity after leasing the farm to start designing them," Kaidan said.
"We built and delivered our first two bins — a 42 000 litre model, 40 feet long and mounted on a skel trailer, and a 21 000 litre, single six metre bin mounted on a super dog — just before sowing this year."
Mr Boyd said customers had been looking for a bin to take the place of multiple trucks and cut down on fill-up time of an air seeder.
He said the SUPA Bin 42 000 achieved both of these with the added bonus of moving away from tipping trucks in the paddock, resulting in a safer operation.
"Growers can use the bin for the purpose of mixing fertiliser straight into the seeder saving the cost of paying a premium price to get it done elsewhere," he said.
"This bin features our remote-control system for doors, belts and the lighting system.
"It is fitted with a zero-contamination conveyor, GX270 Honda engine, roll top tarp, rear and front access ladders and is mounted on a skel trailer using container locks."