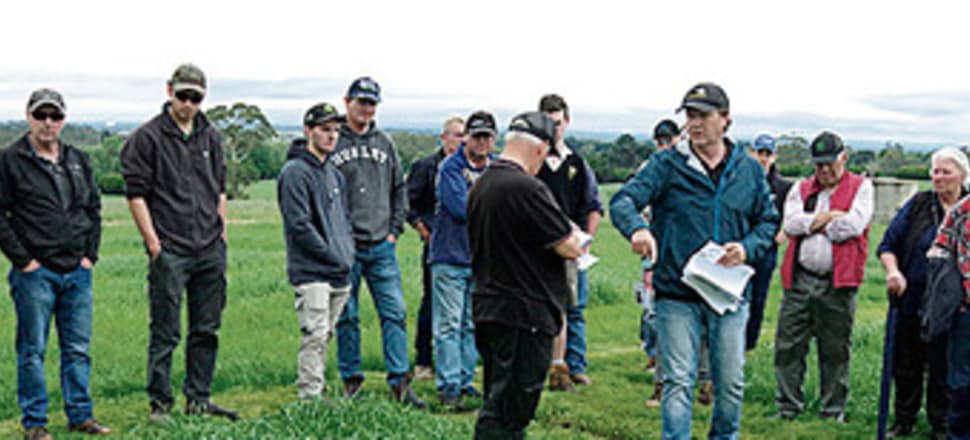 5370537724001
PLANT DENSITY, growth and heading rate were on the minds of dairy farmers who attended a field day at Ellinbank in Victoria, hosted by Notman Pasture Seeds and Cropmark.
Hosted on the dairy farm of Ron Paynter in November, the trial site was sown with 150 plots in autumn this year.
Perennial and annual, along with Italian, rye-grasses were comparable side by side — current and future potential species were able to be observed and discussed.
Some of the future species are on Notman's release list for 2019 and 2020.
Cropmark's trial site manager Frank Mickan said the plots were harvested using the 'cut and carry' method. He ran a lawn mower strip through the centre of each plot, collected it and weighed the dry matter.
"Mowing height was down to five centimetres, to imitate grazing," Mr Mickan said.
After the samples were collected, the entire site was mowed; then re-grown to ideal grazing height for the Ellinbank dairy district.
The field day was organised just prior to grazing, after which more data will be collected.
"The plant breeder needs data to measure the varieties' performance," Mr Mickan said.
Black beetle infestation had impacted the trial site, leaving some plots patchy.
"We can see there's about a 15 per cent difference between the best and least plant density across the plot," Peter Notman told the 40 field day attendees.
"The better two or three of these Italian rye-grasses are holding on comparable to hybrids; so deciding what to sow, that's a cost of production decision."
Mr Notman spoke about storing endophytes and suggested attending farmers be organised about sowing dates, particularly when using modified endophyte grasses.
"It's important to know approximately when you're going to sow in the autumn," he said.
"You don't want to store modified endophyte grass seeds over the hot summer months, in hot storage conditions. Our idea is to transport modified endophyte grass seeds quicker out of the cool store and to the farmer close to time of sowing.
"If it sat there for two months over summer, the endophyte can be compromised."
Among the varieties under discussion was the new late heading Vibe Italian rye-grass, which Mr Notman said had shown to be very persistent in similar replicated trials.
Farmers were impressed by the leafiness and density of the new Cropmark Italian and annual rye-grass varieties. Mr Notman was looking forward to them becoming available to the market and being of increased value to farmers wanting quality home-grown feed.
"Pasture is a factor in getting more off our land for less — less money, less inputs and less use," Mr Notman said.
"That's where the interest lay in these field days — in identifying what varieties do best in varying soil types, if they get compacted by camping livestock and if nearby trees impact their growth."
He said variety breeders were focused on increasing plant protection to pest resistance, by adding 'lolene' during the seed breeding stage.
"The more they can get in, the longer it should last."