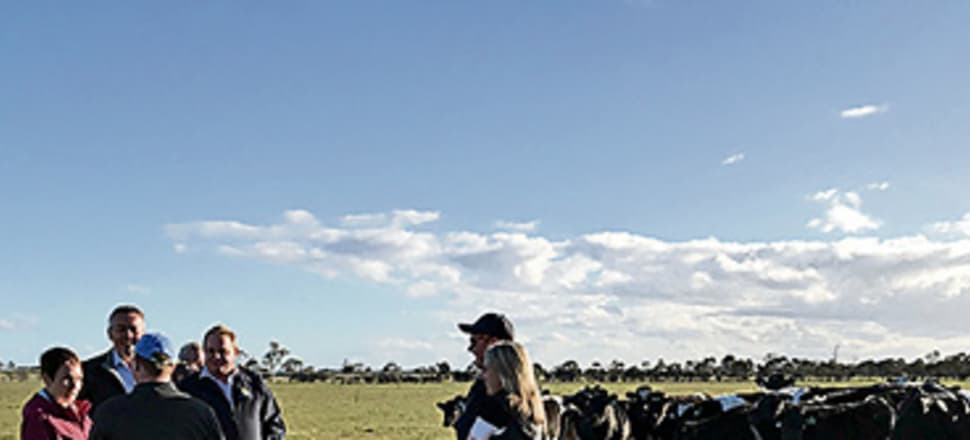 5370537724001
WHILE THE spotlight has been on the drought covering 100 per cent of NSW and a significant portion of Queensland, other areas have been ignored.
In July 2016, eastern Gippsland was flooding, so the expectation was for a good season. Dams filled, rivers and creeks flowed and the soil moisture profile was full.
After a hot summer with strong winds and little rainfall, by autumn 2017, it was obvious a drought had taken shape in the districts of East Gippsland and Wellington Shires.
The autumn season failed. It was a hard winter, with an unprecedented 13 days of hard frost in succession that killed pasture. Dams began to look dry.
Farmers made infrastructure decisions to offset drought — buying silos, building haysheds, cleaning out and building dams and installing bores and reticulated irrigation systems.
There was a failed 2017 spring for many across the region, with no runoff rain and very little opportunity to grow hay or silage without irrigation.
As drought took hold, many farmers made further management decisions.
Some farmers sought agistment in other regions and pregnancy-tested-in-calf (PTIC) heifers and cows were sent away to take pressure off pastures.
Others began lightening their livestock numbers. Expansion and development plans went on hold.
Rainfall in the past couple of years has been between 33–72 per cent less than average. Some areas have had their lowest rainfall recorded — less than Toowoomba, Tamworth and St George, drought-declared a long time ago.
The length of the dry conditions, with drought in NSW and Queensland, has created a unique shortage and dramatically increased price of available fodder and grain.
Entering spring 2018, it is clear a significant rainfall event is needed to recover soil moisture — with its own management issues.
Soil moisture is at an unprecedented decile one. The next six to eight weeks are critical for pasture and crop growth.
On August 10, local farmer, Trevor Caithness, and I met to discuss drought in our region. We wanted the chance for farmers to discuss drought effects and solutions for helping ongoing management.
We were worried about a forecast late Spring and extension of this drought. We were worried about recovery.
I sent a direct message on twitter, inviting Victoria's agricultural minister, Jaala Pulford, and Gippsland federal minister, Darren Chester, to meet with local farmers.
I devised a survey to determine what local farmers' concerns were, how they managed the drought and future recommendations.
Within a day I heard from Minister Pulford, confirming her interest. A few days later, Mr Chester invited me to a telephone meeting with agricultural leaders. The survey was eliciting responses from farmers, with common themes.
Mr Chester sent a letter to and lobbied then Prime Minister Malcolm Turnbull. I sent a missive directly to Deputy Prime Minister, Michael McCormack.
Within a couple of days, the Federal government announced Wellington and East Gippsland were included in the drought package, with $1 million grants to each shire council.
Victoria's senior agricultural beaurocrats visited local farmers, Anthony and Sarah Snow. Minister Pulford's office confirmed a local visit and my phone and email ran hot as I was included in the discussions about where she would visit and who to talk to.
I was still gathering survey results and framing a submission on behalf of local farmers.
The day arrived and Minister Pulford along with the Secretary and other key staff of the Agriculture department met with a large number of district farmers.
Mr Chester and local Victorian parliamentary representative, Tim Bull, were part of the discussions. The national and local media arrived en masse.
Where are we now? We have the spotlight of politicians on East Gippsland and Wellington shires. Minister Pulford's door is open, Mr Chester has organised a second teleconference and on his invitation, Minister David Littleproud, will visit the region soon.
Many people have lobbied hard and are now being heard. The submission themed by data distilled from farmers' confidential input has been sent to multiple government ministers.
We can continue to advocate for recognition and support and we just have to maintain the momentum.
• Jeanette Severs is a freelance journalist and farmer in East Gippsland.
JEANETTE SEVERS