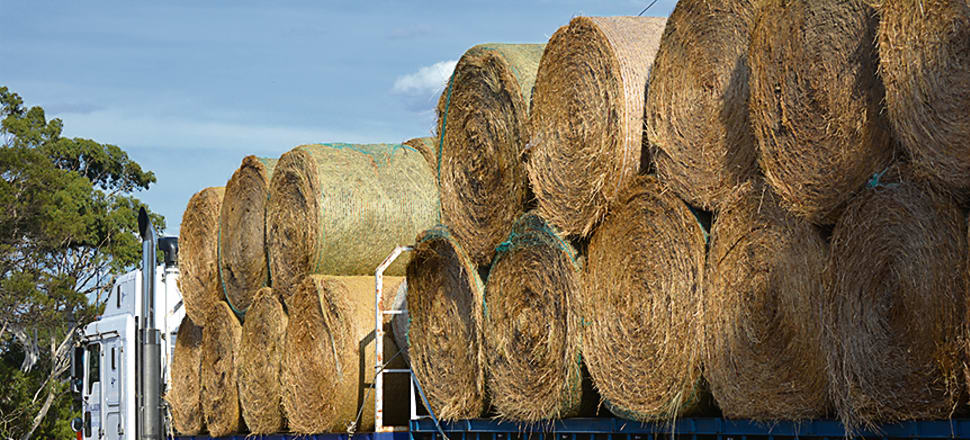 5370537724001
Maddens Bridge Road at Glenfyne near Cobden in south-west Victoria is usually a quiet, picturesque dirt track surrounded by native trees.
However, a week after fire rushed through the area; the road is abuzz with activity around Tony Negrello's farm.
Forest fire management vehicles rush past, electrical contractors and tree removers make sure the farm is safe.
Two trucks laden with hay — one previously purchased by the Negrellos, the other donated — are being unloaded and another truck with fencing material has just arrived.
Visitors are there checking on the recovery process, doing what country people do in times of need.
Son Dean sums it up as the support rolls in: "We wouldn't have survived without all this."
The Negrellos lost more than 50 percent of their pastures, about 14 km of fencing and eight cows.
The fire burnt to within a stone's throw of their dairy, and their house isn't far behind that.
But Tony realises they're lucky and lost less than many others in the St Patrick's Day fires.
"There's a lot of work to clean up the old fences and put up the new fences but there are lot of people with rubble where their houses used to be," he said.
"We lost 450–500 acres. It went through all the gullies and around the back of the dairy. We lost plantations around the hills and a bit of hay out the back; there's only dirt there now but we'll be all right."
Tony stayed at the farm till about 10.30 pm on Saturday, March 17 before deciding to evacuate.
"The whole skyline was aglow," he said. "If we got trapped here it would be too late. You couldn't get through on this road. The fire was going that fast we could have easily been pinned in."
Tony milks about 400 cows and was without power until Monday evening. He borrowed a generator from the Terang Racing Club on Sunday to keep milking in the interim.
"We were back to normal pretty quickly; there were people without power for a lot longer than us."
The donated hay came from a farm near Warragul that was burnt about 10 years ago. Those farmers are now repaying the generosity they received during their difficult times.
"If we didn't have this I don't know where we'd be," Tony said.
Insurance should cover fence replacement but Tony isn't sure how long it will take to get them back to normal.
Tony has been on the farm for 45 years. The Ash Wednesday fires of 1983 came close, stopping about 3 km from his property.
"This is the first time it's happened here," he said. Tony and his family evacuated to the Glenfyne hall but fearing they could be trapped in the heavily forested area decided to relocate again to Cobden.
"I've got a crook leg so I can't walk fast," he added.
Tony said farmers should take up the offers of support, such as donated hay.
"They do need hay," he said. "If there's not an autumn break they will be in trouble.
"We'll get the fences in and if we get a good autumn break we should be all right, but you never know what's around the corner."