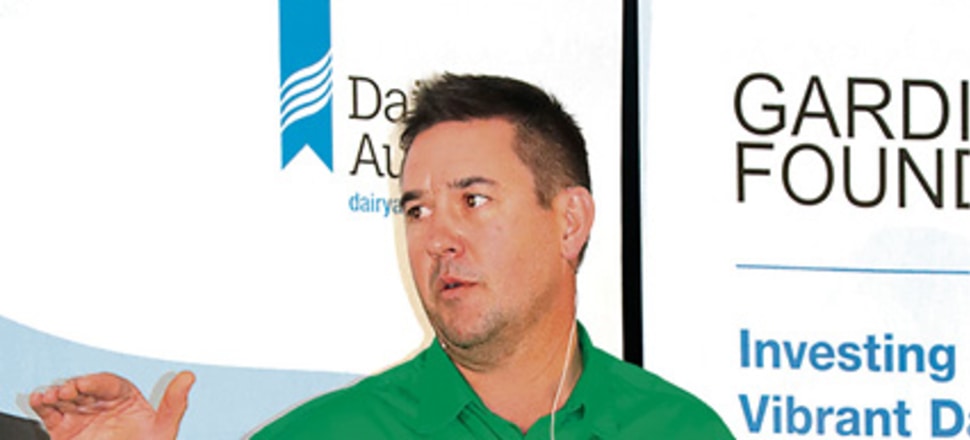 5370537724001
ALLANSFORD DAIRY farmers Sam and Christine McCluggage have reduced their reliance on milk income through the use of sexed semen to produce surplus heifer calves.
The McCluggages milk 700 Holstein cows on their 319 ha home farm, Ballyvernstown. They also have two run-off blocks comprising a total of 310ha, which are used to grow-out young stock.
They breed all their own replacement heifers for biosecurity reasons, which also ensures they have full histories of their entire herd, and have a seasonal calving pattern.
Last season their herd averaged 8100 litres/cow and 590 kg of milk solids.
"Most herds depend on milk for 88 to 90 per cent of gross income and about 10 per cent coming from livestock, which is largely from cull cows and some bobby calf sales," Mr McCluggage said.
"Those herds are open to the rise and fall of milk prices as they are dependent on the milk factory for the majority of their farm income.
"With our use of sexed semen and our future use of genomic testing, we now have surplus heifers to sell, plus our bull calves that we rear, so we now generate extra income from surplus livestock sales.
"Our aim was to have income from livestock at about 25 per cent of our gross income which pushes our reliance on milk income down to 75 per cent and that is without reducing the amount of milk that we produce. We are at that point now."
The McCluggages have used 100 per cent AI on the cows for the past five years.
"I don't like having bulls with the milking herd for OH&S reasons and as the herd has grown we had to run more bulls," Mr McCluggage said.
They calve the cows in a concentrated period using 800 doses of conventional semen and 600 doses of sexed semen, rearing 450 heifer calves a year plus 200 bull calves.
Later-born, smaller, natural-bred calves are sold any time after weaning.
"We only need about 220 as herd replacements — this still gives us just over 30 per cent replacement rate," Mr McCluggage said.
They mate maiden heifers to sexed semen using Fixed Time AI programs and also use sexed semen over selected milking cows.
Seasonal calving allows them to make the most of their high rainfall and pasture growth without any irrigation or summer crops.
This year they started calving on March 2 and after six weeks had 510 calved for a total of 375 heifer calves, which was 74 per cent of all calves born.
Mr McCluggage spoke at the ImProving Herds National Muster field day, attended by 300 farmers and industry representatives at the Jelbart family's farm in Gippsland, last month.
They are one of 34 focus farms in the ImProving Herds project, which demonstrates the financial impact of using higher genetic merit bulls, and from genotyping heifers.
Mr McCluggage said their ImProving Herds results clearly showed that high genetic cows — based on Balanced Performance Index — were more profitable than the cows with the lower BPI figures in their herd.
The top 25 per cent of their herd, based on BPI, were producing an extra 377 litres/cow/year of milk, 31 kg/cow/year of protein and 46 kg/cow/year of fat more than the 25 per cent of cows with the lowest BPI figures.
The top 25 per cent of cows have a gross margin (income over feed costs) of $356 more a year and also last three months longer in the herd, which is equivalent to a third of a lactation more.
"Our higher BPI cows have proven they are more profitable. We need to be breeding and keeping heifers with higher BPI figures," he said.
Genomic testing sorts the stock they keep for themselves from those they sell — and they can do that at a young age.
"High BPI cows make more income over their feed costs so we need to be keeping high BPI heifers to ensure future income is maximised."
Their cow breeding program uses 600 doses of sexed semen and 800 doses of conventional semen with a synchronisation program using prostaglandin.
"We put our heifers through a Fixed Time AI program on the run-off blocks, but we don't do them all at the same time; instead we run them through in small mobs," Mr McCluggage said.
"Most of the fresh sexed semen is used in our heifer AI program. We get the best conception rate with fresh sexed semen, but the number of bulls available for sexed semen can limit bull choices and the selection pressure for traits such as BPI."
They weigh and monitor their heifers regularly once they get to around 200 kg and grow them out on the run off blocks in groups of 60 to 75.
"We have found the heifers do better in smaller groups and are easier to monitor," he said.
"We keep the heifers in these mobs for synchronising and joining because one mob is a comfortable day's work between milkings and we want to make sure we minimise stress.
"With a FTAI program, the heifers will go through the yards four to five times so I want them to be relaxed.
"By handling the heifers in batches, we end up joining 250 to 300 heifers in the different mobs over four separate days. We then use Jersey bulls as mop-up bulls for the heifers."
Sexed semen is expensive, so if Mr McCluggage is using it in the main herd he:
only uses sexed semen for the first two rounds of joining, that is, the cow has to have calved in the first month of calving;
only uses sexed semen on younger cows, that is, second and third calvers;
only uses it on cows that have no history of calving issues before or after calving; and
only uses it in cows that will be in the herd for the next 12 months.
"We metricheck all cows soon after calving to make sure they have cleaned up. We don't want to waste sexed semen on a cow if she has a reduced chance of conception.
"We don't have the option of carrying a cow over because we are a seasonal herd."
Their herd size can vary from 630 to 730 cows depending on the season.
"We drop herd numbers back in a dry season, which then gives us an opportunity to put a lot more selection pressure on the herd," Mr McCluggage said.
"Having a large number of heifer calves also means we can ramp up cow numbers very quickly if we need to.
"Ideally, we want 220 to 230 heifers going into the herd each year to keep the age of the herd down and genetic progress heading in the right direction."