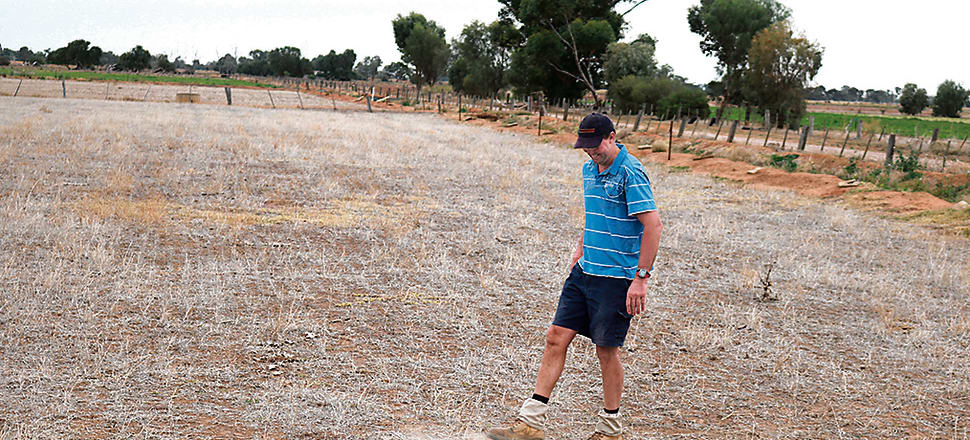 5370537724001
IT CAN take a lifetime to build up a reputable dairy herd, but Col and Narelle Bacon from Colnarco Jersey Stud have done it in just over 17 years.
The Bacons, from Lockington, were recently inducted onto the Genetics Australia Honour Roll for their contribution to the Jersey breed.
They have been breeding quality Jersey cows since they bought their own farm and went out on their own in 2001.
"My parents, Norm and Margret, started Brookbora Stud back in early '50s, which is continued by my brother Robert, wife Sandra and son Daniel," Mr Bacon said.
"When we moved from the family farm at Tennyson to Lockington we divided half the young stock. We also purchased two small herds from Gippsland, one was from an older retiring couple who loved their cows and had very good herd records to allow us to register the remainder of the combined herds and that's where Colnarco began."
Mr Bacon did milk Holsteins years ago in his previous herd, but once American genetics were used in the early 1990s and Jersey production lifted greatly — and heifers began producing 30 litres — he decided to stick with the more economical-to-feed breed.
In the early days when it came to breeding, he used a lot of progeny test bulls but, with the advent of genomics, he has now followed that path — currently using a 50 per cent young sire and 50 per cent proven sire mix.
"We have flushed a few cows over the years and when I was using PT semen I found it usually returned an average or better animal most of the time.
"Genomics is the way to go now and we have had eight bulls tested by AI companies over the years — the last bull that went to GA was in 2014."
The Bacons keep up to half-a-dozen bulls each year — they use some as mop-up bulls and sell the rest as herd bulls.
"We usually pick out our better genomic-tested bulls and use them on our heifers, which works well," Mr Bacon said.
He always looks for high Australian Selection Index, Balanced Performance Index and Total Performance Index bulls from good cow families when it comes to AI selection.
"We don't breed animals to breed bulls. The focus is always on the herd and producing quality females, but if a good bull comes along well that's a bonus."
One of those bonuses has been Colnarco Navarian.
According to Genetics Australia's Peter Thurn, Navarian is one of the most influential sires of the era, producing cows with positive milk and protein, great type, high fertility and outstanding survival. He has produced a number of quality sons including Algernon, who has attracted high local and export demand.
"Navarian's influence will live on through his many potential bull mother daughters," Mr Thurn said.
Mr Bacon was "totally surprised" to be acknowledged. "We used to do the on-farmchallenge a few years ago, but we don't do that anymore; all we do is milk cows and breed a few bulls."
Colnarco is currently milking 180 cows off 121ha.
"We aim for a spring-calving herd but there is always a few cows carried over. This year we have 17 autumn calvers, which we will rejoin again for spring. We usually end up milking 40 or 50 over winter, which is nice and easy."
The Bacons, like most dairy farmers, have found it difficult in the past few years and, like most farmers, water availability is a major issue.
It determines what feed they grow and how many cows they milk. They usually buy 100 Ml of water on the temporary market each year. They irrigate 45 ha year-round and over-sow millet during summer.
"We have an old stand of 15 ha of lucerne which we milk off but I didn't bother to water it at all this year — normally a summer rain would give us some feed but we didn't even get that this year," Mr Bacon said.
There is also a 20 ha stand of lucerne that is over-sown with cereals and cut for hay.
"We have used a similar amount of water this year, just over less area. We decided to water the better quality pasture and forget about the poorer stuff."
The Bacons currently supply Tatura Milk after dissolving their association with Murray Goulburn.
"Our family had supplied MG since 1949 until its terrible demise," Mr Bacon said. "We stuck with them for 12 months but in July last year we decided to change processors."
Looking to the season ahead they are nervous about the dry conditions.
"If we don't soon get some rain and at current milk prices it looks like it will be another pretty stressful year," Mr Bacon said.
"People think the dairy industry is a wonderful industry to be involved in, but when you are the one milking the cows it can be a different story.
"Farmers need to get a much better return for the work they do."