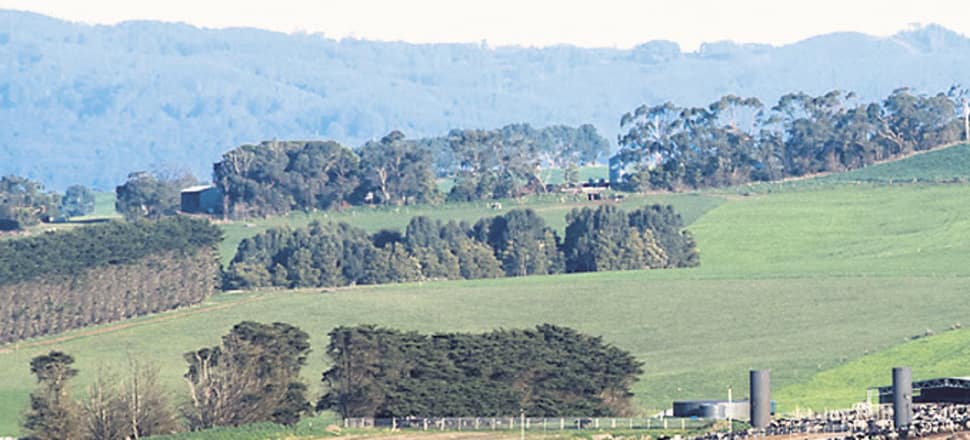 5370537724001
Jorge Massa spends as much time planning his staff's days off as he does his herd's three-times-a-day milking.
For Mr Massa, keeping people happy is as important as keeping cows happy and he's achieving both as manager of Leslie Manor Trust's Hilltop Dairy near Simpson in south-west Victoria.
He oversees six permanent staff and a bank of casuals who take care of a milking herd of 650 Holsteins on the 300 ha farm.
The 2017 Great South West Dairy Awards Employee of the Year winner likes to make sure all systems are working well and that staff know what they're doing and enjoy it.
"The people are the most important part of the business and I want to make it a place where they want to work," he said.
"It might be something very simple like we get together and celebrate every birthday."
Mr Massa is also adamant about giving people regular breaks from their work.
"Everyone has a set day off. In this industry you can be forced to do a lot of changes but the only thing I never change is the time off for people. That's very important.
"We never let any task fall behind on the farm but my focus is keeping the people happy. It's most important you spend time with your family and you have your time off."
It was Australia's opportunities for his young family that encouraged Mr Massa to leave his native Colombia in 2007.
"I was looking for better opportunities for my family. This country is full of opportunities."
That has proven to be true and Mr Massa is now a permanent resident with his wife Antonia, daughter Valeria and young son Damian.
A qualified vet in his native country, Mr Massa completed a business diploma after moving to Brisbane and worked different jobs in maintenance and construction and live food producers.
He worked for several years for Inghams, one of the largest producers of chicken and turkey in Australia, where he quickly moved through the ranks, becoming a site supervisor looking after hygiene and quality assurance and managing a team of nearly 50 people.
"It was connected to what I studied; as some of the credits from my degree are on public health which is directly related to the processes involved in food production. We look after people as well as animals," Mr Massa said.
"That job gave me credibility in Australia. When you're coming from another place you need Australian experience."
It also rekindled his love for being on a farm. "Farming was my dream."
His grandmother's family were cattle people and he was keen to work in that field in Australia.
He joined the Leslie Manor Trust in 2014 and later became manager of the Hilltop Dairy operation.
"We love the countryside and the life here. We always wanted to live in the country but it's hard in Colombia," Mr Massa said.
Colombia is a tropical country and therefore there are no seasons but climate varies depending on the altitude, temperature, humidity, winds and rainfall.
"It's mainly hot at sea level and in the high mountains it's colder. In Australia you have four seasons; in Colombia it's only wet and dry."
Dairy farming in Colombia is done mainly in more suitable mountain climate regions above 1000 m. However, there are tropical dairy systems at coastal areas where temperatures are above 30 degrees all year, using Bos Indicus dairy breeds and crosses with Holsteins called Gyrolando.
"This is a complete different model to what we have in Australia," Mr Massa said.
The Australian seasonal conditions prompted him to instigate three-times-a-day milking for five to six months of the year, usually reverting to twice daily from June to December.
Milking starts at 4 am, noon and 8 pm, with staff rostered to start their shifts half an hour earlier.
"The cows are happy with that," Mr Massa said.
"The main thing is to have the cows nearby in summer so they can use the feed pad and mixer wagon rations and then sleep in the resting area and not need to walk looking for food."
Having a healthy and well-fed herd is paramount for maintaining production.
"We check every 15 days to see how we're going. If you're not feeding enough they'll lose body condition and if they lose body condition you lose production."
The farm's target is 8500 to 10, 000 litres/cow and it's now operating in that range.
The herd was previously 70 per cent Holstein Friesian and 30 per cent crossbred, but they decided pure Holstein was better suited to the system.
"We have semi-intensive production with the feed pad and mixer wagon," Mr Massa said. He works with a nutritionist and more home-grown feed is part of the plan, with big stacks of silage on hand if needed.
Feed testing to ensure cows get good quality and balanced intake is essential when milking three times a day, he said.
They have autumn and spring calving, stopping in winter and December-January.
"The winters here can be fairly wet and it's hard for the cows and in December you want people to spend time with their families," Mr Massa said.
"Then we calve and produce milk in autumn when we get good prices."
The farm has been using high quality Holstein genetics aimed at improving health and production. This year they started a stud — Homestead Holsteins.
"If you're improving the herd you can share with others," Mr Massa said. "We're looking for the best all the time and try to improve the farm every day."