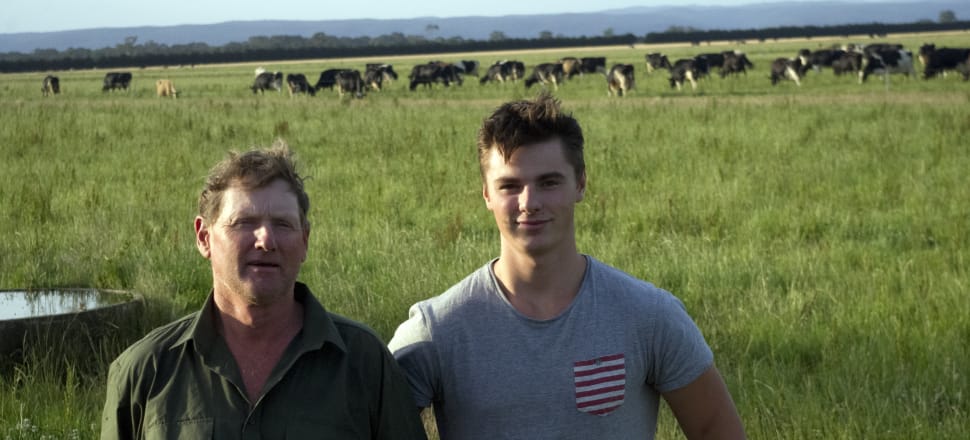 5370537724001
ROSEDALE'S ANDREW Bowman balances irrigation challenges against the need to keep his herd in prime condition. So when a season like this one comes along, with about half the annual average rainfall, he keeps a close eye on pasture, fodder supplies and herd health.
Mr Bowman milks a mostly Holstein-Friesian split-calving self-replacing 260-head herd in the Macalister Irrigation District of Gippsland. The 364ha mostly dryland farm has a 400Ml permanent water right from Lake Glenmaggie, to flood irrigate 113ha.
That is part of the effective milking area of 105ha. The remaining country is used to rear heifers and produce fodder—hay and silage—for the year.
"We've got to get between 500 and 600 rolls of silage each year to meet production and grow out heifers," Mr Bowman said. "I bought an extra 200 rolls of silage early in this season, because I was concerned about the weather and growing conditions.
"We only get the water right between August and May from Lake Glenmaggie and it looks, now, like we're not going to get any spill entitlement this summer.
"Not unless we get a heap of rain before early December."
For irrigators to qualify for spill entitlements, the weir needs to be full and farmers are able to access additional low security water. They can also apply to purchase additional water—if Southern Rural Water makes it available—through an online auction system. Last summer, Mr Bowman bought additional temporary irrigation water through the auction system—one purchase of 50Ml cost him $8057.10, including a transfer fee of $82/Ml.
"In the past couple of years, Southern Rural Water has held online auctions for temporary transfer of water and I've been able to buy 150Ml extra," he said.
"I'll do the same if it's available this summer. Most farmers have used up 30 per cent of their irrigation right so far and I'm probably sitting about the same.
"We're irrigating about every 10 to 14 days and I'm stretching it as much as I can."
He is looking at beginning to dry cows off in January, for autumn calving, to reduce the need to feed extra fodder for milk production.
"I need to maintain cow condition rather than worry about production," he said.
"At the moment, with irrigation, I've got a good wedge of grass in front so we can make the most of the spring production.
"I'll need to reassess after Christmas, but at this time, I'll probably get to February 1, with the current irrigation allocation."
The milking herd produces 64 tonnes of fat and 52tonnes of protein.
"That's about 115 tonnes of milk solids, or 4.3 per cent fat and 3.45 per cent protein," Mr Bowman said.
He also diversifies with trading cattle. He invested in a pivot irrigator during the year and has grown 20ha of crop under it. The first cut produced 180 rolls of silage and he expected 120 rolls from the second cut—as hay or silage. In the meantime, he has been able to graze heifers on that pasture.
A Murray Goulburn supplier, he applied for and received a Dairy Concessional Loan during the year. "I invested that in putting the centre pivot in and amalgamated some farm loans,"
Mr Bowman said. Paying interest only at the moment, his eyes are firmly on paying the principal well before the 10-year loan period is up. "But dairying is an expensive business. To achieve peak production in the dairy industry, you can't cut costs," Mr Bowman said. "The last year has been very difficult supplying MG."