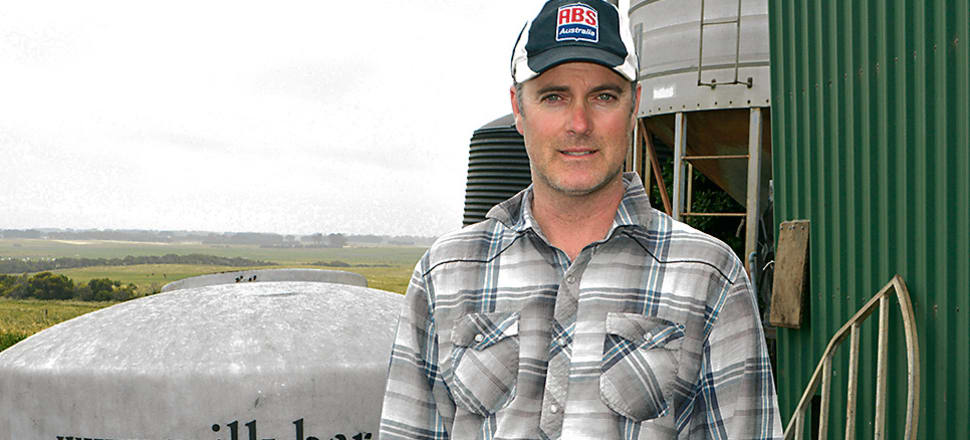 5370537724001
WITH BASS Strait just over the hill, Eugene Rea's Coast View farm at Mepunga owes more than just a name to its locality. The sandy soil that dominates the land has a big infl uence on how Mr Rea operates the farm and manages his Childers Cove Holsteins herd. Crop selection, herd health and stocking rates are dictated by the farm's size and location, but after 20 years on the property, including the past seven as owner, he has everything fine-tuned.
"We're always looking to make things more efficient and to develop a better herd," he said.
Mr Rea registered the herd when he purchased the farm from his parents, Tony and Anne, in 2010.
"I thought it would add value and it was also an interest; almost a hobby within the job," he said.
He has been successful in a number of onfarm competitions but says it's the science behind the breeding that keeps him interested.
"I still look closely at the pedigree behind the semen we use. The progression in the past 10 years with genomics is very exciting."
Mr Rea is interested in North American cow families and has had success with embryos from Luck-E Holsteins in Illinois.
"I went there in 2013 and that was the best herd of cows I've ever seen. They're tremendous looking animals in a commercial environment; I saw some fantastic show cows but the Luck-E cows were real cows working in real conditions."
There are about 60 descendants from the initial 10 batches of embryos Mr Rea purchased.
"They're working their way through the herd and hopefully in 10 years' time the majority of the herd will be from those lines, especially now we use a lot of sexed semen and do a lot of culling.
"With the leap forward in improvement with sexed semen we're getting more heifer calves out of good young cows and you can speed up the advancement of the herd."
Mr Rea didn't have great results five or six years ago when first using sexed semen, but with Sexed Ultra they're getting 60 to 65 per cent conception.
"We spend good money on that semen to make sure we get good animals. We don't use bulls. We're 100 per cent AI and with the sexed semen we sell probably 50 heifers, which provide an extra income stream for us."
Childers Cove Holsteins has won a western region Semex on-farm competition and had a couple of winners and placegetters in the ABS comp.
"I think the herd is getting better," Mr Rea said.
"The ultimate goal is for a herd known for having good udders and well-balanced cows. We're always looking to improve on health traits; we don't have any major problems but have to look at feet because the sandy soil can cause a few issues."
The farm has about 285 cows producing around 650kg/MS. Each year they produce about 9200litres.
"We're happy enough with that but hopefully we can increase," Mr Rea said.
At the start of November he added an individual feed system in the dairy to feed different rates based on lactation stage.
"We have milk meters and hopefully we can feed to production. We're always fine-tuning the system."
Within a few weeks Mr Rea is already noticing the benefits from feeding fresh cows an extra couple of kilos and a bit less to those ready to dry-off.
"We're feeding the ones we know will use it efficiently."
The farm covers 112ha plus an outpaddock and a further 65ha of leased land. Mr Rea said 285 was about his maximum herd size,
"so we try to get as much production out of those we milk".
The dairy, an 18-double up, is also fairly limited but the addition of the electronic ID system, automatic drafting and plans for activity monitors for heat detection make it more efficient and easier for staff. Mr Rea joins one full-time and three part time staff members on the milking roster.
"I enjoy milking," he said.
"Having those special cows you've bought in makes it more enjoyable."
The farm is starting to calve three times a year—adding mid-June to the traditional March and August—to maximise efficiency in the dairy, rather than drop numbers.
"We've done that the last two years to try to level out production a bit more," Mr Rea said.
"We grow corn silage in our outpaddock so there's no pressure on feed over winter. We've got the feed for them in June/July when we're getting good money for the milk. It's a way to milk more cows through those months when we've got high milk prices."
The farm averages 750mm rainfall, but because it's almost on beach sand it can handle the wet without getting too boggy. However, because it's so sandy it struggles to hold perennial pasture, so instead Mr Rea drills most of the farm with annuals.
"We have a 13.5ha pivot and because we don't have an abundance of groundwater we sow that completely to turnips. We have to grow the most water-efficient crops so we do turnips."
Mr Rea also has a hard hose irrigator and put 12ha of turnips under that for a total of 25ha of turnips that give the cows 5kg to 6kg through summer into autumn.
Those crops have been averaging eight to 12tonne/ha. He adopts the same theory with the outpaddock.
"The most water-efficient crop we can grow there is maize silage. That gets 20tonne per hectare and we carry it back and feed it over winter."
He's aiming for total reliance on homegrown feed, supplemented by grain.
"In 2010 we bought-in six to eight truckloads of hay every year; we probably average one since we've had the irrigation system in."
He is also keen on analysing the business and is part of the DairyBase group through his processor, Warrnambool Cheese and Butter.